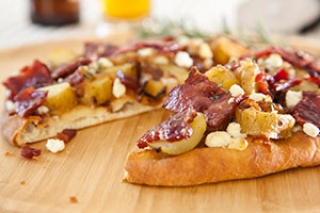 America's Obsession with Pizza Remains Strong
05 May 2017
Chefs create contemporary pies with ethnic flavors, savory cheeses and healthy, local ingredients.
By Lisa Parrish, GMC Editor
Is America preoccupied with pizza? Well, consider this: there are 10 times more pizzerias than hospitals; in 2015 the pizza industry collected sales of $38.5 billion – that's a lot of dough; and 93 percent of Americans eat pizza at least once a month. Preoccupied – how about obsession! Pizza is a hip industry that touches almost everyone, from young to elderly and in all menu parts, from morning to late night. Pizza is ubiquitous and prominent chefs are taking the pie from usual to amazing through flavor innovations, creative toppings, and developing recipes for untraditional dayparts like breakfast.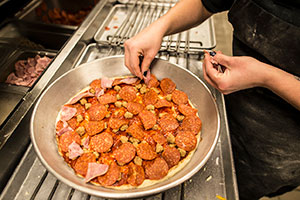 Flavor Trends
Fast-casual and QSR chains stand on the front-line of flavor innovation. Tyson Foodservice Teams Corporate Chef, Brett Miller, sees the broader international trend of global flavors influencing pizza offerings with hot and spicy ingredients and drizzles.
"With continued consumer demand for hot and spicy, spicy base sauces are a perfect way to satisfy that craving. Hot seasonings—such as Cajun—and spicy condiments—such as spicy pickled peppers or spicy giardiniera—also allow consumers to get the fix they crave," he said.
Another option for flavor customization includes pizza drizzles and drips. Chef Miller said, "This is a low risk way for operators to feature flavor innovation as well as customization on the menu. The customization piece is critical as consumers continue to look for ways to personalize their food, and some of the fastest growing pizza chains center around this idea of customization."
Contemporary Ingredients
Artisan pies with locally–sourced ingredients and healthy options are building demand for pizzas beyond the typical college-age customer. This grown-up approach appeals to consumers who are looking to have a certain level of comfort and connection to their food beyond the traditional options.
Tyson Foodservice Teams Culinary Strategy/Execution & Product Training Chef, Jeremy Lycan, said, "If you treat each ingredient with respect, in the end, you will have the greatest outcome. I always teach people to pay attention to quality in all aspects of the dish, like how each component is cooked, treated and handled."
Chef Lycan believes operators who appreciate the craft appeal of pizza take the time to make sauces from scratch using fresh tomatoes or grind their own cheese. He said, "Chefs know consumers value the effort that goes into achieving great flavors and quality dishes. Artisan and craft pizzas have different ingredients that are more contemporary than traditional pizzas. Descriptive culinary words like fire roasted and flame broiled help communicate the work and effort that goes into crafting the pizza."
He provided this example: "Sourdough crust with fire roasted tomatoes, three artisan crafted cheeses, and house cured pepperoni sounds way more appealing than a pepperoni pizza."
The healthy aspect of contemporary ingredients continues to drive customer demand too. Bacon is a popular topping for pizza. But, some chefs are turning to duck bacon, which has 57 percent less fat than traditional pork bacon while not compromising on taste or texture. Made exclusively with boneless duck breast meat, Maple Leaf Farms offers a duck bacon that is cured and naturally Applewood smoked. It's a modern alternative to the traditional topping.
Contemporary cuisine also includes must-have options for vegetarians. Chefs can use cheese blends to create luscious pizza options that do not include meat. Sara Hill, Wisconsin Milk Marketing Board cheese education manager, suggests perfect pizza cheese pairings with fontina or Havarti and a peanut sauce for an Asian-inspired pie. Or, for a nod to Latin American flavor, she suggests using green salsa for the sauce, avocado cream, black beans, corn, Monterey jack cheese and cotija.
Culinary instructors can go to the Wisconsin Milk Marketing Board's Cheese Blend Calculator to learn which cheeses pair well on pizza applications. Instructors input the number of cheeses they want to blend and information is delivered on the performance, flavor profile and ratios required to deliver the best combination possible as well as an estimated cost.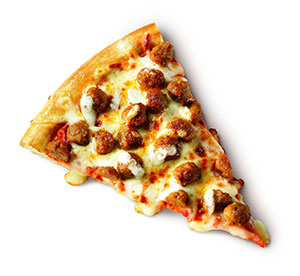 Crusts Getting Thinner
Flatbreads continue to show steady growth in new pizza dough/crusts trends. Flatbread crusts allow operators to execute at a faster, more efficient rate since they cook more quickly than a traditional pizza. These thinner crust bases may increase profit margins by allowing the operator to use less toppings than would be used on traditional doughs/crusts.
Tyson's Chef Miller said, "Flatbreads were once viewed as a healthier alternative versus traditional crusts, which is still evidenced by chicken indexing as the number one topping for flatbreads. But, we are also seeing more indulgent flatbread builds growing on menus. Consumers' love for flatbreads stem from the fact that operators are using them to create builds that are more ethnic inspired, as well as utilizing higher quality ingredients such as more premium cheeses, proteins and vegetables."
Various Menu Parts
How about pizza for breakfast? Consumers say yes, according to Technomic's latest MenuMonitor data. The number of operators offering breakfast pizza is up 3.6 percent over the past year (Q1 2017 vs. Q1 2016). However, menu mentions of breakfast pizza are down by negative 3 percent for the same time period.
Katie Neuser, market research manager for Wisconsin Milk Marketing Board, explains the seemingly incongruent information. "This essentially means more operators are featuring breakfast pizza which bodes positively as an upward trend. But, breakfast pizzas mentioned on total menus are down. Menu mention declines are common in food items. One explanation is that operators continue to simplify their menu offerings and ingredients used, which may bring total menu mentions down. Also, some operators may have offered several breakfast pizzas in the past but now are offering fewer options."
On the positive side, the average price of breakfast pizza in U.S. restaurant is up 1.1 percent at $12.78, according to Technomic. Neuser reports the three most popular breakfast pizzas cheeses are mozzarella, cheddar and feta.
Tyson's Chef Miller has also noted the breakfast pizza trend. He said, "They allow operators to stay competitive in the marketplace, especially as QSR burger chains continue to offer all day breakfast options. While the breakfast pizza builds can vary widely, some basic commonalities include a white sauce or olive oil base, and toppings including eggs and traditional breakfast proteins such as bacon, sausage and ham."
Chefs can also capitalize on two hot trends at once creating a contemporary savory breakfast.
---
A Pizza Master Class is available for CAFÉ Leadership Conference attendees. The three-hour hands-on class on June 22 will feature Wisconsin Cheese Guru Sara Hill and Cheese Chef John Esser, who provides cheese education all over the world, instructing participants on the do's and don'ts of cheese application and how to blend cheeses for fabulous and tasty results!! Pizza-from breakfast to dessert! Class cost is $25 for registered conference attendees.
---
Photos courtesy of Tyson Foodservice and Maple Leaf Farms.