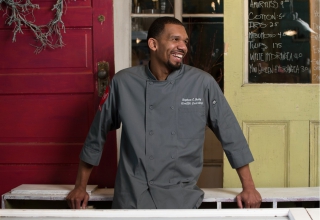 Food Network's Cake Wars Winner Stephan Baity
09 April 2018
Hard work and determination pay off for this award-winning carving culinarian.
By Lisa Parrish, GMC Editor
Graffiti is art. It is destructive yet can be beautiful. It's colorful and incorporates movement. The illegal art form is unique and defines the artist. It also is a lot like garde manger, according to Graffiti Carving owner Chef Stephan Baity.
Chef Baity is a self-taught food artist who carved a place for himself eight months ago when he and two team mates won the Food Network's Cake Wars: Christmas. "Winning Cake Wars instantly changed the game. Peoples' perspective of me changed. I was now certified, bonafide and qualified," said Chef Baity. Long before winning the reality show's title, many other people had already taken notice of his talent and passion for fruit and vegetable sculpting.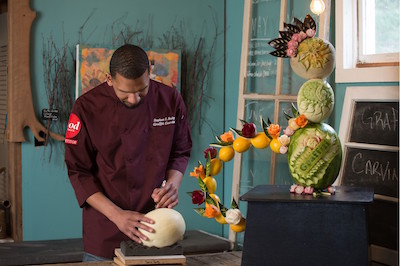 Chef Baity's professional course was set well before graduating from the Pennsylvania Culinary School in 1999. "I was 14 years old on a college visit and I randomly met Dick Alford " recalls Chef Baity. Alford is a fruit sculpture expert who has been extensively featured in the media and led demonstrations nationwide. "I became a groupie," said Chef Baity. He often watched other food sculptures as well and thought it was fascinating.
At the age of 19 he was chef manager for Wood Dining Services. One evening there was an opening night reception where he prepared cocktail meatballs. "I looked around and saw other chefs doing ice carving and I thought, 'All I have are meatballs.' On a whim I rushed out and bought a pumpkin and carving kit; the one with the little orange knife. I did a watermelon carving but the owner loved it," said Chef Baity. After the event, he quickly purchased as many pumpkin carving kits as he could find and his career took another sharp turn.
That year the fall season ended and so did the supply of pumpkin kits. Chef Baity searched online for better materials but found nothing in the United States. "The only books I found were from Thailand and Malesia. I don't speak either of those languages. It was a lot of trial and error," said Chef Baity.
He continued to learn food sculpting on his own and posted his best work on the Internet. After several years of practicing, he entered a competition in Columbus, Ohio, where he connected with James Parker, another national food sculpting expert. Parker had seen his work and asked Chef Baity to help him with several upcoming demonstrations. It was Parker's connection with the Food Network and their work together that led a Food Network producer to call Chef Baity with a Cake Wars contestant request.
"The first time I met my team mates was during our first taping. They gave us the theme, put 35 cameras in our faces and said, 'Don't screw up.' It was the hardest thing I have ever done in my life," Chef Baity explained. "I learned from the show that you are given one shot and you need to make the most of it."
He has used his culinary skills as a way to overcome much adversity throughout his life. Chef Baity grew up in a world of violence living in public housing on the south side of Canton, Ohio. Food was his way to escape from that world. It has been there for him through the death of his first child all the way to winning the Food Network's contest.
Chef Baity now uses his experiences and helps mentor young adults. He recalls a conversation with one person who asked for help. "He asked me, 'What does it take to get to your level?' I told him that if he wanted to be great it was going to take sacrifice. He should say goodbye to everything but carving. Oh, and I also told him to get used to eating fruit salad and vegetable trays."
Chef Baity describes his current professional life using the analogy of cartoon characters Batman and Bruce Wayne. Chef Baity's full-time job is director of culinary services at the University of Mount Union in Alliance, Ohio. "When I work during the day I'm Bruce Wayne, but at night I turn into Batman practicing my skills late into the evening. It takes a lot of sacrifice. I will carve long after midnight when I've worked a 12-hour shift and my wife and kids are asleep," Chef Baity explained.
As one of a few African American carvers, Chef Baity is surprised by how his culinary success has inspired other children. "I never knew that would happen. They've gone crazy for me. I've shown them that what I do is more than carving fruit – it's a way out (of poverty)," he said.
Chef Baity's business name – Graffiti Carving – is the perfect example of how hard work, determination, personal experiences and being in the right place at the right time have all come together and paid off in his culinary career.
"James Parker told me I needed a business name that embodies me and is a name people can identify with," Chef Baity said. "Then I thought about the first art form I knew – graffiti. Each tag is unique. The mixed medium paintings flow with the eyes constantly moving. That's how I want to garde manger."
Chef Baity has folded his unique character into his sculpting designs. "Culinarians don't have to be like everyone else. There is personality in food. Not everyone is going to agree with it but you have to follow your passions. Your only competition is your reflection in the mirror."
---
Photos courtesy of Chef Stephan Baity and the Food Network