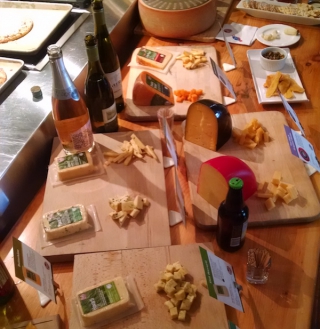 The Diary of a Cheese Lover
07 September 2016
Instructor Patti Lang travels to Wisconsin for a total immersion cheese externship and receives a cow's (uninvited) lick of approval.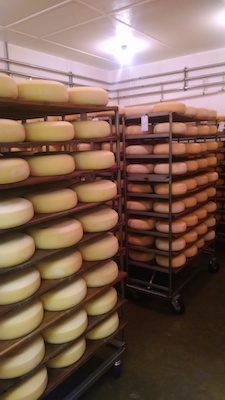 By Guest Speaker Patti Lang, chef instructor
Patti Lang, chef instructor at McFatter School of Culinary Arts, in Davie, Florida, and her student Aya Ashour, were one of three teams who won an all-inclusive cheese externship contest sponsored by Emmi Roth USA and the Wisconsin Milk Marketing Board offered through CAFÉ.
Lang's team earned the five-day trip for their version of roasted cauliflower quinoa and fontina cakes with an heirloom tomato and avocado salad using Emmi Roth Natural Melt Fontina Cheese. The instructor-student team traveled to Wisconsin in early August and Lang wrote this about her and Ashour's travels:
Day One: This jam-packed five-day tour began with a cheese primer at Emmi Roth USA Culinary Education Center in Monroe, Wisconsin. We were greeted by friendly faces and an incredible selection of cheeses, local beers, wines and other nibbles. Claire Menck, Emmi Roth's corporate chef, gave us an overview of cheese types and appropriate pairings. We swirled our skewers in figure eights into the warm pot of bubbly cheese fondue. Two Raclette options were demonstrated for this hands-on, tableside cooking which focuses on more warm cheese. Sausages, potatoes, mushrooms, broccoli and even doughnut holes and potato chips are encouraged to be dipped or bathed in warm cheese.
Claire spoke about Wisconsin favorites, which proved to be true for the rest of the trip. If all of that wasn't enough, we were then escorted to Baumgartner's Cheese Store and Tavern also in Monroe. It's Wisconsin's oldest cheese store where you can dine on classic sandwiches and of course drink beer.
Day Two: Day two began early at the Emmi Roth USA Plant. After breakfast we took an informative tour with a master cheesemaker and then there was a cheese class, which included making, grading, cutting and handling cheese. There was a friendly cooking session billed as a Blind Basket Challenge for the three teams. It turned out we just made lunch for the group and everyone had a good time sharing ideas with one another.
Our day continued with a tour of New Glarus Brewery and an exploration of the adorable town of New Glarus. At Glarner Stube for dinner, they served cheese curds (who doesn't in Wisconsin?), various sausages, Weiner Schnitzel, and my favorite Roesti potatoes.
Day Three: We attended four cheese tours: Klondike Cheese Company in Monroe, Roelli Cheese Company in Shullsburg, Hook's Cheese Company in Mineral Point and finally onto Dodgeville to tour Uplands Cheese Company. How incredibly lucky we were to talk with Chris Roelli at Roelli Cheese Company and witness the emotion on his face as he spoke about just winning Best in Show at the American Cheese Society competition for his "Little Mountain" cheese. He is so humble and hard working.
We enjoyed a wonderful lunch at Brewery Creek. Sara Hill from the Wisconsin Milk Marketing Board guided us through a beer and cheese tasting in a private dining room at Quivey's Grove, an old quaint restaurant converted from a farmhouse and stable. The dinner that followed was delicious and it included a basket of fresh strawberry muffins. We were all exhausted after a full day of grazing and we headed to the beautiful Madison Concourse Hotel for check-in.
Day Four: We began with a tour and tasting at Widmer's Cheese Cellars in Theresa where Joe Widmer talked about his personal story of how his family came to this country and spent generation after generation as cheesemakers. Every cheesemaker we met had has his or her own story. It was touching to listen to the passion in their words and see their eyes sparkle when they spoke about their lives' work. Each cheesemaker uses their creativity to produce a unique cheese style, just like any chef or artist.
Sassy Cow Creamery in Columbus was our next stop and honestly one that I was most excited about. I didn't get to check off "milking a cow" from my bucket list. However, I did get up close and personal with a dairy cow and received an uninvited lick on my forearm when I reached out to pet her. A new calf was born just hours before and it was special to see this wobbly little creature experiencing life for the first time. Butter Pecan and Pistachio were my choices of the delicious ice cream we sampled which is made right on the farm. Sara decided to sneak in an extra treat when we visited this beautiful sprawling winery in Roxbury. We indulged in a tasting and walked around the gorgeous grounds while appreciating the perfect weather. Next we traveled to Sauk City to visit the Carr Valley Cheese Company. One of my favorite cheeses was tasted here; a warm garlicky chewy cheese which they call "bread cheese" because it resembles a slice of toast. This wasn't one of the finer or more expensive cheeses; however, it had me hooked. The salty cheese curds were quite addicting as well. As stuffed with cheese as we all were everyone managed to build an appetite for our last dining experience together at Sardine in downtown Madison. It was a wonderful celebration and exchange of favorite new knowledge.
Day Five: Our last day was on our own. The Dane County Farmers Market was just steps from our hotel door. This wonderful marketplace wrapped around the Capital Building and was filled with local vendors and artists selling their wares. This is a big college town and it's nice to see the locals out buying fresh flowers, beautiful produce, local honey, various food items and there were food trucks and more. This was a great way to get some fresh air and see the area before we headed to the airport for our journey home.
I have so much gratitude to Mary Peterson at the Center for Advancement of Foodservice Education (CAFÉ), Sara Hill, manager of cheese education with the Wisconsin Milk Marketing Board, Corporate Chef Claire Menck with Emmi Roth USA, as well as Kirsten, Heather and Emily with Emmi Roth. All of the organizers of the event did an incredible job that will have lasting memories for the instructors and their students.
This can be such a motivating force for our young students and new knowledge gained for the instructors to pass along to future culinarians. Whenever I eat a piece of cheese I will remember the history, the cheesemaker and the whole cheese making process and I believe I will appreciate it that much more.
Instructors hosted by Emmi Roth USA and Wisconsin Milk Marketing Board as follows:
Herve Guilaard and Andrew Courtenay of College of the Canyons, Santa Clarita, California
Patti Lang and Aya Ashour of McFatter School of Culinary Arts, Davie, Florida
Wayne Smith and Kelvin Shaw of Western Colorado Community College, Grand Junction, Colorado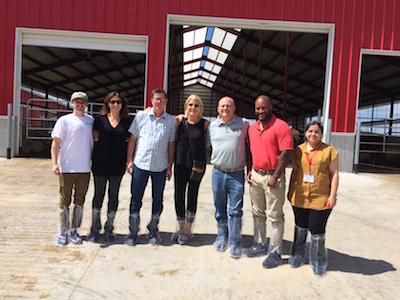 ---
Photos courtesy of Wisconsin Milk Marketing Board and Emmi Roth USA