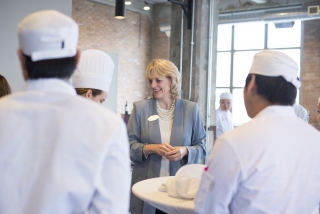 Food is Only Part of the Culinary Arts Education Foundation
08 August 2016
Kendall College Interim President Kim Shambrook expands on the need of culinary students to be master builders of a balance sheet just as if it were an award-winning dish.
By Kim Shambrook, Interim President of Kendall College
This past spring, the nation's leading culinary professionals convened in Chicago to celebrate and recognize the outstanding achievements of the men, women and restaurants responsible for the dramatic growth of an industry that the National Restaurant Association estimates will generate $783 billion in sales, nationwide, and will employ 10 percent of the U.S. workforce this year. The James Beard Foundation (JBF) Awards, often called the "Oscars of Food," were a wonderful celebration of industry accomplishment and innovation.
To achieve the restaurant industry's most prestigious recognition, it is obvious that the James Beard nominees and winners have perfected culinary skills. What few people appreciate is that these individuals and those achieving other industry recognitions have also become masters of culinary business skills, including marketing, management and accounting.
One of our Kendall College graduates, Chef Adam Siegel, corporate chef and managing partner at Bartolotta Restaurants (Milwaukee, Wisconsin) and past winner of a James Beard Award echoes this. Adam often shares with his mentees that it is just as important to be able to build and manage a balance sheet as it is an award-winning dish. If not for the former, the "shelf life" of the business might expire well before its time.
As educators, it is extremely important that we remember how truly essential these business skills are in opening, running and sustaining a restaurant. The best providers of culinary arts education understand the significant role business skills play in paving the way for successful careers and offer the opportunity for students to learn, practice and perfect these skills. This is absolutely fundamental to our approach to culinary education at Kendall College.
As the restaurant industry evolves, we must nurture and encourage its future leaders. It is our responsibility as educators to arm students with the knowledge that will set them up for success. In addition to classic culinary training, this must include education in major business concepts, from accounting and marketing to personnel management and entrepreneurship.
By doing so, the talented young adults on which the future depends will be better prepared to turn their passions into profitable and sustainable businesses. ,And they will most assuredly surprise and delight us and our city's visitors along the way.
---
Kim Shambrook was named interim president of Kendall College by the board of directors in January 2016. Prior to joining Kendall, first as director of professional education and community outreach, Shambrook was the president, co-founder and executive chef of Bespoke Cuisine, a full-service catering company in Chicago, Illinois. Shambrook holds a bachelor's degree in education and a master's degree in education psychology from Eastern Illinois University, located in Charleston, Illinois. She also holds a certificate in professional cookery from Kendall College.
Photo courtesy of Kendall College.