Sullivan University Honors Kansas City Chef Colby Garrelts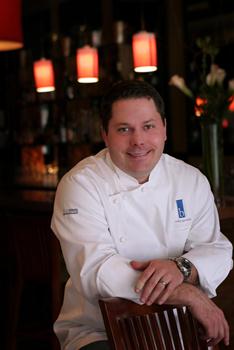 Sullivan University's National Center for Hospitality Studies (NCHS) honored Chef Colby Garrelts of bluestem Restaurant in Kansas City with the prestigious Distinguished Visiting Chef award on November 10. As recipient of the award, Garrelts presented on-campus cooking demonstrations, book signings and question-and-answer sessions held exclusively for Sullivan University students.
Designed to connect today's aspiring culinarians with industry leaders, The Distinguished Visiting Chef Series has been recognizing three top chefs annually since its inception in 1988. Garrelts is the 41st recipient of the award, joining an impressive roster of chefs that includes Bob Kinkead, Emeril Lagasse, Louis Osteen, Rick Tramonto and Marcel Desaulniers.
Garrelts, who has been nominated several times for Best Chef Midwest by the James Beard Foundation and was named by Food & Wine magazine as one of the Top 10 Best New Chefs in 2005, obtained his culinary education in kitchens across the country. A native of Kansas City, Garrelts cooked at two prestigious private clubs, the famed American Restaurant, and the legendary Stolen Grill while attending culinary school. He developed a taste for big-city cuisine, small-business acumen and the aspiration to see what culinary experiences he could acquire in larger cities. With all of this on his mind, Garrelts moved to Chicago in 1999, where he became the senior sous chef at the five-star, five-diamond restaurant TRU under nationally acclaimed chefs Rick Tramanto and Gale Gand. At TRU, Garrelts honed his technical skills, developed his culinary style and met his future wife/partner Megan Schultz.
Still anxious to get additional experience, Garrelts moved with Schultz to Las Vegas, where he assisted Chef Jean Joho in managing his Eiffel Tower property in the Paris Las Vegas Hotel & Casino and later joined Schultz at Charlie Palmer's Aureole in the Mandalay Bay Resort and Casino. On a mission to hone their skills in a smaller kitchen, Garrelts and Schultz moved to Los Angeles, where Garrelts secured the chef de cuisine position at Röckenwagner Restaurant in Santa Monica. After two years in Los Angeles, Garrelts was eager to open his own restaurant, where he could take the skills and experiences accumulated from the talented chefs he had worked for and blend them into his own distinctive cuisine.
Colby and Megan Garrelts, now married, moved to Kansas City in 2003. The couple located a building in the heart of Westport, Kansas City's entertainment district, and opened bluestem on March 15, 2004. In 2006 they expanded bluestem and opened a lounge next door to the dining room. The restaurant showcases Garrelts' Progressive American cuisine and Megan Garrelts' new varieties of American desserts. A highlight of dining at bluestem is savoring the tasting menus including the decadent dessert-tasting menu. The restaurant has received rave reviews including 2007 Santé Magazine Restaurant of the Year, a 4-star rating from Kansas City Magazine and Wine Spectator's prestigious Award of Excellence. Insisting on "his way," Garrelts has successfully shown that this can result in an exceptional restaurant and award-winning cuisine! The Garrelts are very excited about their first cookbook, bluestem the cookbook, which will be released in fall 2011 and showcase the cuisine featured at the restaurant.