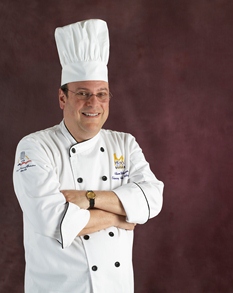 Chef Weiner lists his first 50 articles written for CAFÉ's "The Gold Medal Classroom," for the benefit of readers.
By Adam Weiner, CFSE
This article is dedicated to Ms. Terry Jones of Gallup high School in New Mexico. At the June 2014 CAFÉ Leadership Conference in Salt Lake City, she sat down next to me and said, "Adam, I print out each of your articles and keep them in a notebook on my desk. I made an index, and before I teach a new subject I re-read the appropriate article."
Could anything be more musical to my ears?
Toward the end of 2008 I was contacted by Brent Frei and Mary Petersen asking if I would be interested in writing the regular editorial department, "50-Minute Classroom," for CAFÉ's "The Gold Medal Classroom." I told them that I would do it temporarily for a few months until they found a permanent columnist.