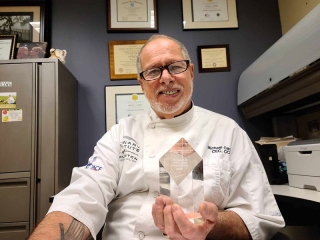 CAFÉ Honors Six Culinary Instructors and One Business Leader with 2020 Awards
10 August 2020
Even though the 2020 CAFÉ Leadership Conference was cancelled this year, we still presented honors to seven leaders in culinary education. All recipients received a plaque and will be recognized at the 2021 Leadership Conference next June held in Portland, Maine.
2020 Entrepreneurship Award, sponsored by Kendall College
Michael Carmel, Trident Technical College, South Carolina.
2020 Innovation Award, sponsored by Idaho Potato Commission
Jennifer Denlinger, Valencia College, Florida
Green Award, sponsored by United Soybean Board
Culinary Institute of Michigan, Jamie LeRoux
Honorable mention to Jennifer Denlinger, Valencia College in Florida
Postsecondary Educator of the Year Award, sponsored by Sysco Corporation
Amanda Miller, Culinary Institute of Michigan
Secondary Educator of the Year Award, sponsored by Sysco Corporation
Tim Michitsch, Lorain County Joint Vocational School
Second annual CAFÉ Champion Award
Cathy Scruggs, American Technical Publishers