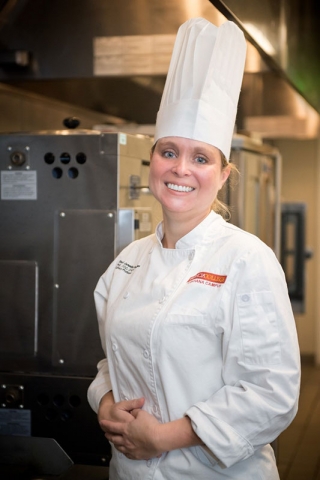 Culinary Students Can't Escape Food Safety. Or, Can They?
10 August 2020
Dr. Jennifer Denlinger earned the 2020 Innovation Award, sponsored by the Idaho Potato Commission, for a creative escape room based on safe food handling procedures.
By Lisa Parrish, GMC Editor
Food Safety and Sanitation is one of the most information-laden courses a culinary student takes. Students must know details from food prep to cooking temperatures to the causes and preventions of 19 microorganisms and more. It is also one of the first required courses and a backbone for other culinary classes.
Studying for the exam turned into a fun game in Valencia College's Dr. Jennifer Denlinger's class when she devised an escape room to review concepts and safety facts. Students are presented the first clue and that answer leads them to other clues that help them solve the escape room puzzle. The better students know their facts the further they get in the puzzle. Her creativity was rewarded with the 2020 Innovation Award, sponsored by the Idaho Potato Commission. She received a $1,000 cash prize and commemorative plaque for her innovative approach to effective culinary arts education.
The Culinary Management Program Department Chair wanted to "figure out a better way for students to pay attention and retain information," she said in her application. She knew including active learning lessons, or methods outside the scope of a traditional lecture, would be key to helping her students retain the more than 3,000 items they needed to know including all Florida state regulations.
"I have taught this class hundreds of times," she said. "It is a very tough class with lots of memorization. The goal is to help students work on a better way to learn the information needed and apply it to real-world scenarios."
Her students agreed that an active learning approach would better help them retain the information. One culinary management student said, "Providing visual and hands-on activities corresponding to the lectures maintain student involvement."
Students begin with a clue as they enter the classroom turned into an escape room. It deals with donning a uniform. Once they find the appropriate clothing article, they find the next clue. Another clue example is this: You are given a task today to filet fish. Please get the correct tools to ensure you have no cross contamination. Students then know to look for a set of colored cutting boards and taped to the back of the correct board is the next clue.
Another clue that uses a shellfish tag listing a harvest date is this: What day can you throw away this tag? The answer is a date, such as May 30, which becomes 0530 and corresponds to the correct combination of a programmable lock on a box containing the next clue.
Dr. Denlinger also uses invisible ink in her clues. Clues are revealed with black/ultraviolet light, which also reveals germs and is used to teach sanitation techniques. One test has students arranging pictures of food in order of correct cooking temperatures. Once ordered, a black/ultraviolet light is applied, and numbers are revealed that lead to another programmable lock and the next clue.
The end of the game does not have students leaving a locked room but leads them two large jars with their contents concealed. Students who answer the last question correctly arrive at one jar filled with candy. The consequence of answering the last question wrong is a jar filled with dried beans.
When asked about how students felt about the review activity the answer was resoundingly positive. "Eighty-eight percent of students who responded said they enjoyed the activity and felt like it made them think critically," Dr. Denlinger said. "This activity is super successful and popular."