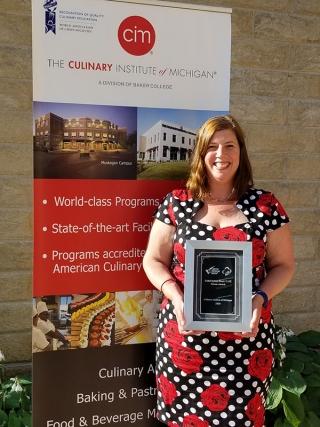 Sustainability Education Lasts a Lifetime
10 August 2020
Culinary Institute of Michigan awarded the 2020 Green Award sponsored by the United Soybean Board for teaching lifetime sustainability skills.
By Lisa Parrish, GMC Editor
The Culinary Institute of Michigan's (CIM) commitment to sustainability goes far beyond educating waste management in the classroom. Their goal is to move a culinary student's resource conservation practice to life outside the Institute. It is this full-life commitment to sustainability that earned CIM the 2020 Green Award sponsored by the United Soybean Board.
Their sustainability philosophy teaches students the principle of eating nutrient-dense whole foods from local farms as a means of making healthier food choices and becoming food-literate adults who understand and practice sustainability.
Jamie LeRoux-Sowa, CIM's program director, said in her application their practice is centered around three main areas: conservation, waste diversion/management, and responsible purchasing.
Resource preservation can be seen at waste sorting stations located throughout the building. These three-bin stations include receptacles for compost, recycling products and landfill options and have replaced the usual trash bins to encourage waste sorting. They also provide single stream recycling for paper, cardboard, aluminum, tin, glass, and plastic recyclable products.
The program minimizes landfill waste by offering compostable plates, cutlery and take away containers. Students receive individual refillable water bottles while plastic bottles were removed from vending machines. Additionally, vending machines offer locally made glass bottles filled with soda made at CIM.
In the classroom, all food waste is composted which creates nutrient-dense soil used in the on-campus vegetable and herb gardens. Any excess soil is donated to a local farm. Unused fruits and vegetables are either pureed or frozen for future use and rendered cooking grease and fat waste is used to produce biofuel.
Sustainability practices are also found at the purchasing level with an emphasis on acquiring recycled paper products and used office/lab/classroom furniture and selecting supplies and equipment that use fewer resources and chemicals. One recent addition to CIM is the eco-safe anti-microbial ozone wash-down system, that is alternative cleaning methods that avoids the use of harmful chemicals. The emphasis on resource conversation flows from the classroom through the cleaning practices.
Through CIM's Sustainability and Nutrition committee, current and future institute sustainability practices are discussed and evaluated. The group expanded and formed a county-wide initiative called Muskegon Food Alliance, which is open to anyone in the food system including consumers, students, chefs, food service/restaurants farmers/producers, distributors, processing, marketing, markets and grocers, and resource and waste recovery,. The goal of the broader committee is also teaching and pursuing sustainability practices throughout the region.
From water refilling stations to the battery recycling program, CIM links sustainability theory to real-world practices.
CIM received a $1,000 cash prize from the United Soybean Board and a commemorative plaque. Additionally, the program was awarded a complimentary registration for a representative to attend CAFÉ's 2021 Leadership Conference held in Portland, Maine, next June.