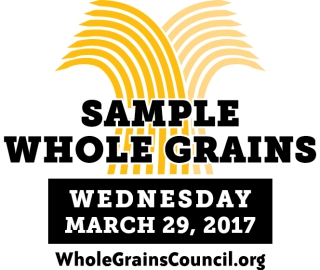 Whole Grain Sampling Day is March 29, 2017
Join institutions across the nation as they promote great tasting, super nutritional whole grains.
Be a part of the 6th annual Whole Grain Sampling Day on Wed., March 29. Organized by the Whole Grains Council and Oldways, a nonprofit food and nutrition education organization, the day is dedicated to providing opportunities for people to try whole grains.
On this single day, educational institutions, heathcare organizations, restaurants, supermarkets, cafeterias and even food trucks across the nation will be offering a multitude of special promotions and low-cost or no-cost whole grain items.
"From supermarkets to restaurants, there will be plenty of places to sample and explore new whole grains on Whole Grain Sampling Day. We think one delicious taste will convince you to put more nutritious whole grains on their plate," said Cynthia Harriman, director of food and nutrition strategies for the Whole Grains Council and Oldways. "And remember, gluten-free doesn't mean grain free – even those following a gluten-free diet can enjoy grains such as amaranth, corn, millet, oats, quinoa, rice, sorghum, teff, and wild rice."
Culinary programs can participate by hosting a whole grain cooking or baking workshop, create a whole grain food drive at your school, teach a whole grain lesson during class or even quizzing students on their whole grain knowledge.
Studies show that switching to whole grains lowers the risk of many chronic diseases. While benefits are most pronounced for those consuming at least three servings daily, some studies show reduced risks from as little as one serving daily – so every whole grain helps.
The easiest way to identify whole grains, now mandatory in school meals programs and included in dietary guidelines, is to look for the Whole Grain Stamp, which guarantees a product has at least half a serving of whole grains.
The Whole Grain Stamp now appears on 10,000+ products including an increasing number that are natural, organic, Non-GMO Project Verified and labeled gluten free sold in 44 countries. Whole Grain stamped products now span 23 SPINS categories, with the top five sales category leaders driving $7.7B in dollar volume.
Everyone is encouraged to join in the whole grain conversation on Twitter by using the hashtag #SampleWholeGrains.
Culinary instructors can learn more and download Sampling Day graphics, Tweets and other resources at: http://wholegrainscouncil.org/get-involved/whole-grain-sampling-day
---
Photos courtesy of Whole Grains Council.