Sullivan University Honors Chicago Chef and Cookbook Author Paul Virant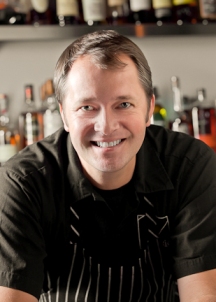 Sullivan University's National Center for Hospitality Studies (NCHS) in Louisville, Ky., honored Chef Paul Virant of Chicago's Perennial Virant with the prestigious Distinguished Visiting Chef award on Aug. 9. As recipient of the award, Virant presented on-campus cooking demonstrations in addition to a question-and-answer session held exclusively for Sullivan University students. He also signed copies of his book, The Preservation Kitchen: The Craft of Making and Cooking with Pickles, Preserves, and Aigre-doux.
Designed to connect today's aspiring culinarians with industry leaders, the Distinguished Visiting Chef series has been recognizing three top chefs annually since its inception in 1988. Virant was the 52nd recipient of the award, joining an impressive roster of chefs that includes Bob Kinkead, Emeril Lagasse, Louis Osteen, Rick Tramonto and Marcel Desaulniers.
Virant is the chef and owner of Michelin-star restaurant Vie in Western Springs, Ill., and Perennial Virant in Chicago. His philosophy of local, seasonal eating stems from his childhood spent on his family's farm in Missouri. He credits his grandmothers, both avid canners, for instilling in him a reverence for local ingredients and serving as the inspiring force behind his becoming a chef.
After graduating with a degree in nutrition from West Virginia Wesleyan College, he enrolled at the prestigious Culinary Institute of America (CIA) in Hyde Park, N.Y. Following culinary school, he joined March in New York, where he further refined his skills under the tutelage of chefs Wayne Nish and Hilary Gregg. A move to Chicago two years later marked a turning point in his career as he worked at some of the nation's most famed restaurants, including Charlie Trotter's, Ambria, Everest and Blackbird.
In 2004, a desire to return to his roots led to his opening of Vie in a nearby suburb of Chicago. Utilizing his methods of canning and preserving, Virant serves up his contemporary American cuisine with a focus on the ingredients—their origin, production and quality. Since opening, the restaurant has garnered regional and national attention, including a three-star review by Phil Vettel of the Chicago Tribune and a spot on Gayot's list of Top 40 Restaurants in the United States. Last spring, Virant's award-winning fare culminated into the release of The Preservation Kitchen, the first canning manual and cookbook authored by a Michelin-starred chef and restaurant owner.
"I wanted to create an extension of my home, where people can come and enjoy good food and drink in the company of people they care about," Virant says. "My goal is to be a small part of my guests' enjoyment of every morsel and drop of life."
He has been featured in the Sun-Times and Time Out Chicago and was named the city's Best New Chef by Chicago magazine in 2005. In 2007, he was named among Food & Wine's Best New Chefs and was a 2011 James Beard Foundation nominee for Best Chef: Great Lakes. He has also appeared on NBC's "Today Show" and competed on Food Network's "Iron Chef America."