New England Culinary Institute Hires Celebrity Chef Jean-Louis Gerin as New Campus Executive Chef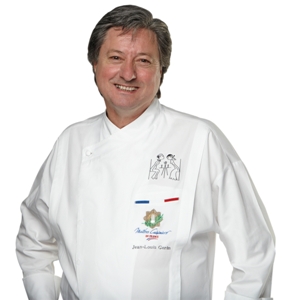 New England Culinary Institute announced Sept. 10 the hiring of celebrity chef Jean-Louis Gerin as its new campus executive chef.
Fresh off his win as Food Network's 2012 "Chopped" champion, the appointment of Gerin is a huge coup for New England Culinary Institute, Montpelier and the State of Vermont. He comes to NECI from Greenwich, Conn., where he and his wife, Linda, have enjoyed a successful 28 years with their own Restaurant JEAN-LOUIS. Since opening in 1985, Restaurant JEAN-LOUIS has earned a reputation as perhaps the finest restaurant in Connecticut, and one of the best in the United States. It has been recognized by Wine Spectator for more than 20 years for its excellent wine list and as one of the "most romantic restaurants for wine lovers in the country" for five years running. The restaurant has consistently earned top ratings by Zagat, and has received Zagat's "Best in Value" accreditation for the past three years.
In 1991 Gerin was honored by his peers in receiving the title of Maître Cuisinier de France, recognizing his work and ability to train the upcoming generation of chefs. In 2001 he received the medal of Chevalier du Mérite Agricole from the French government, honoring him for his work in promoting French Culinary Arts in the United States. In 2006 Gerin was awarded his food "Oscar" when he was given the esteemed title of Best Chef Northeast by the James Beard Foundation, recognizing his achievement, talent and creativity in the world of cuisine. Gerin became President of the Académie Culinaire de France, U.S. Delegation in 2010, with his first board including NECI alumnus Gavin Kaysen as sécretaire général. In 2011, he received the medal of Chevalier des Arts et des Lettres. In April 2012, Gerin was named "Champion" of the Food-Network "Chopped" challenge.
As a chef, Gerin's brilliance lies in his extraordinary ability to innovate classic French cuisine using ingredients from around the globe. Throughout his 36 years as a chef, he has developed his own style, one that he refers to as "la nouvelle classique." It is a full-flavored cuisine, based on complex stocks, emulsions and reductions seasoned with Gerin's uncompromising taste for quality ingredients.
"The arrival of Jean-Louis Gerin as NECI's new campus executive chef will help the school achieve higher culinary standards," says NECI's founder and CEO Fran Voigt. "His presence will bring new recognition for NECI's unique educational approach among many people who are only vaguely familiar with it right now. Additionally, Chef Jean-Louis will provide a new public personality for the school throughout Vermont and New England. Having him at NECI will bring a level of esteem not found at many other American culinary schools."
New England Culinary Institute, founded in 1980, is widely recognized for its innovative immersion style of education featuring small classes, hands-on learning and personal attention. Its graduates are sought after the world over for their level of skill and preparation. For more information on New England Culinary Institute or its multi-award-winning restaurants, visit www.neci.edu or www.necidining.com.