Wednesday, 25 March 2015 03:00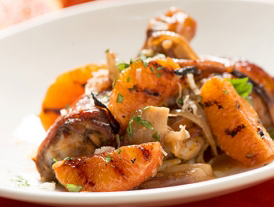 Top chefs know that exceptional produce is where flavor begins. More produce choices equates to more chances to shine. That's why citrus is something to celebrate.
Courtesy of The Culinary Institute of America
The citrus world has several notable newcomers—specialty varieties that used to be rare are now poised for takeoff. Growers have expanded plantings of citrus that once seemed exotic, like Meyer lemons, Cara Cara oranges and Moro oranges. And they're devoting more acreage to the truly unusual, like Zebra™ (pink variegated) lemons and pummelos.
These up-and-coming citrus are clearly fruits with a future, and chefs who embrace them have a competitive edge. A cocktail garnished with a Zebra lemon slice makes a cutting-edge impression; a mundane roast chicken makes a fashion statement with grilled Cara Cara oranges (pictured).