Lesson Plan: The Professional Chef Discovers Maine Lobster
04 November 2014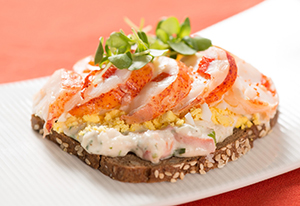 From recipes to roe, and from properly extracting meat from the shell and paring it with wines, this free online learning course from The Culinary Institute of America is suitable for culinary-arts students in class and as homework.
The Culinary Institute of America has launched a free online learning course, "The Professional Chef Discovers Maine Lobster." The program provides a crash course in all things Maine lobster, including chef-tested recipes, all downloadable and demonstrated in streaming HD video by CIA Chef Scott Samuel and some special guest chefs.

Sponsored by the Maine Lobster Marketing Collaborative, "The Professional Chef Discovers Maine Lobster" takes viewers to the coastal waters of Maine as lobstermen pull up their catches and into the kitchens of the CIA's Greystone campus in Napa Valley.

"Maine lobster brings decadence to the menu, and is a treat for any chef to work with," says Scott. "I developed the recipes in this series to celebrate and complement Maine lobster's famously sweet flavor." Among the recipes demonstrated in this online culinary course are lobster bisque, lobster cakes, lobster rolls, lobster risotto and lobster quesadillas.

The course also explores how to tell the difference between hard- and soft-shell lobsters, how to shell a lobster and extract the meat, how to find and use lobster roe, how to pair wine with lobster, and how to prepare a variety of contemporary lobster dishes. The content is designed to be suitable for both foodservice professionals and students.

"The Professional Chef Discovers Maine Lobster" was produced by the CIA's Digital Media team, which has won two James Beard Foundation Awards for Best Webcast. View the module at www.ciaprochef.com/mainelobster.
PHOTO:Maine lobster smørrebrød, as featured in "The Professional Chef Discovers Maine Lobster" free online learning course.Courtesy of Kristen Loken/CIA