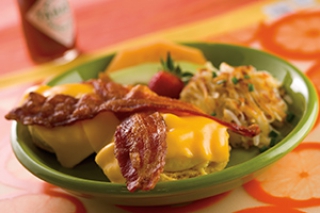 Lesson Plan: Makin' Bacon
29 April 2015
NAMI's Ultimate Guide to Bacon video provides an inside look at how bacon is made; a companion brochure features bacon facts and history.
It is the meat that has become an American obsession, once eaten solely for breakfast, but now found wrapped around other foods, infused into cocktails and even made into personal-care products. To honor bacon's role as a cultural icon, the North American Meat Institute (NAMI) has developed a new Ultimate Guide to Bacon, featuring a video tour of a bacon processing plant and downloadable companion brochure with bacon facts, history and more.
The video is the newest installment in NAMI's Glass Walls series, taking viewers inside a typical bacon processing plant. It shows how bacon is made from harvesting the animal to separating the belly to curing and smoking the meat to cutting and packaging the finished product.
"With many people interested in where their food comes from, we wanted to show bacon lovers everywhere exactly how we make this 'cult' food," says Janet Riley, senior vice president of public affairs. "Making bacon isn't complicated, but few people have the chance to see the process. We hope this video satisfies bacon curiosity wherever it exists."
The brochure includes more on the history of bacon, nutrition facts, some of the best quotes about bacon and where people enjoy it the most.
NAMI's Glass Walls series also features tours of pork, beef and turkey plants led by animal-welfare expert Temple Grandin, Ph.D., professor of animal science at Colorado State University. The videos include a thorough look at sanitation in meat plants, how hot dogs are made and how ground beef is made. Those videos have been viewed more than 800,000 times on YouTube.
The new bacon video is available here on NAMI's Meat News NetworkYouTube page. Printed copies of the brochure are available on request. Complimentary copies of the video are provided to teachers who cannot access YouTube. To receive a copy of the video or brochure, send a request to Glass Walls, 1150 Connecticut Avenue, NW, Suite 1200, Washington, DC 20036 or email This email address is being protected from spambots. You need JavaScript enabled to view it..
---
Photo:
Peppered Bacon & Egg Biscuit Sandwich
, courtesy of TABASCO®.