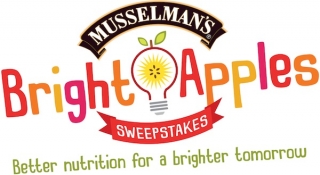 Knouse Foodservice Announces Bright Apples K-12 Winners
School foodservice initiative receives more than 700 entries while promoting better Nutrition with apple sauce. 
Knouse Foodservice congratulates five winners of its first Musselman's® Bright Apples Sweepstakes for kindergarten through 12th grade (K-12) schools. The sweepstakes was designed to help kids learn healthier eating habits by promoting apple sauce and to show how this nutrient-rich snack is made with care from fresh American-grown apples.
The sweepstakes ran from August 1 through October 31, 2015, to celebrate National Apple Months. Eligible foodservice directors, school officials and other key school food influencers entered the sweepstakes by completing an online registration form or by redeeming a K-12 apple sauce rebate. Entrants were sent educational posters to display in their schools, and they received an additional entry for sharing images of students with the Bright Apples posters.
Out of more than 700 entrants, five prize winners were selected at random. Each prize winner received a $500 American Express® gift card to use for school improvements, as well as an apple tree seedling to plant at school—perfect for "farm to table" initiatives to teach kids where their food comes from. The five winners are:
Schrader Elementary of New Port Richey, FL
Greenbrook Elementary of Hanover Park, IL
Westchester of Chesterton, IN
Bakerfield Elementary of Aberdeen, MD
Arendtsville Elementary of Arendtsville, PA
Holly Springer with Bakerfield Elementary says, "In a world where nutritious options are few and far between, I am happy to see Knouse promoting healthier choices for kids. We had a lot of fun hanging the posters and submitting photos to enter the sweepstakes. Our students love Musselman's Apple Sauce, so I'm looking forward to planting our apple tree seedling and teaching them about the origin of one of their favorite snacks."
Todd Michael, Director of Sales for Foodservice at Knouse, says, "Everyone at Knouse was very excited about the number of entries to our sweepstakes. We are thrilled to be able to facilitate more nutritious eating habits in students' lives, and we have a wide range of kid-friendly apple sauce products to prove it. From our multi-serve cans perfect for K-12 back of house to our convenient 4.5 oz. cups that provide a full serving of fruit, we have the better-for-you solutions schools need to keep kids happy and healthy."
About Knouse
Knouse Foods is an established grower-owned fruit cooperative and food processor for apple and fruit related products. The cooperative includes fruit growers in the Appalachian region of Pennsylvania, Maryland, Virginia, West Virginia and the Mid-West. Known for its environmental stewardship, Knouse Foods is committed to ensuring all of its products meet the highest standard for taste, quality and consistency. For more information, visit www.knousefoodservice.com.