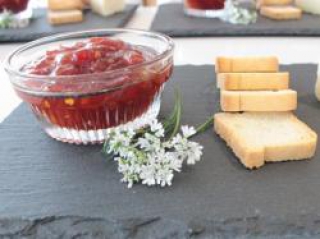 Canadian Culinary Student Takes First Prize in Florida Tomato Contest
Courtesy of the Florida Tomato Committee
Annie Lo, a culinary student at Okanagan College, Kelowna, British Columbia, Canada, was awarded the grand prize of $1,000 in the Florida Tomato Committee's 27th annual "Top Tomato" recipe contest for Canadian culinary students. A panel of judges awarded the top honors based on flavor, originality, use of fresh Florida tomatoes and ease of preparation.
For her jam, Lo cooked the fresh tomatoes with roasted peppers, aromatic spices and heat from fresh and dried chilies. The result, a complex mix of flavors that pairs well with soft cheeses and crackers.
A Florida Tomato Iced Tea, reminiscent of a Bloody Mary, took the second place prize. Culinary student Morris Hsu slow roasts the tomatoes first before straining and infusing with fresh ginger, mint and fennel leaves. A squirt of lemon juice helps bring the flavors to life. Third place was awarded to Elizabeth Devereaux for her Florida Tomato Eggplant Stacks, which begins with a slice of panko-crusted eggplant topped with a tomato jam, fresh mozzarella, slice of fresh tomato, and topped with a tomato mayo and fresh basil leaf.
The Florida Tomato Committee's annual contest helps educate students about proper handling of fresh field-grown tomatoes, a staple in the foodservice industry. It also provides instructors with the chance to reinforce recipe development and writing skills.
About The Florida Tomato Committee
The Florida Tomato industry produces virtually all the fresh-market, field-grown tomatoes in the U.S. from October through June each year - currently amounting to nearly 900 million pounds - and accounts for about 50 percent of all U.S.-grown fresh tomatoes.