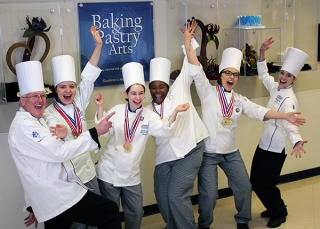 Sullivan University National Center for Hospitality Studies Students Earn Five Gold Medals
A trip to the American Culinary Federation "Pastry Live" competition in Atlanta was a major success for Sullivan University Baking and Pastry Arts students, resulting in five gold medals.
Directed by instructor and World Certified Master Pastry Chef (WCMPC) Derek Spendlove and chef Kendall Knies, the team spent four weeks preparing for the event. The night before competing, students stayed up until midnight completing their pieces, then woke at 5 a.m. to make final touches. The team was judged by Certified Master Chefs from around the world.
Four students from Sullivan University's National Center for Hospitality Studies submitted entries. Jaelin Rifkind from Louisville, Ky. and Markeisha Crutcher from Lebanon, Tenn. were each awarded a gold medal for their cakes. Benita Gomez from Medina, Ohio earned one gold for her petit fours while Jessica Waked Diaz from Bogotá, Colombia took home two gold medals for her petit fours and celebrated cake entries. Diaz now has five gold medals in two competitions this year, adding to the Baking and Pastry Arts team's total of 10 gold medals.
In addition to the gold medals, Diaz placed first and second overall with her petit fours and cake, while Crutcher placed third overall.
---
About Sullivan University's National Center for Hospitality Studies
Sullivan University's National Center for Hospitality Studies prepares students for careers in the hospitality field by offering four associate of science degrees, a Bachelor of Science degree in hospitality management and a master of business administration degree with a hospitality management option. Students can earn an associate of science degree in culinary arts; baking and pastry arts; hotel and restaurant management; and event management and tourism. The University also offers professional baker, professional cook, personal/private chef and tourism diplomas. All programs of study are taught by highly qualified faculty using the latest contemporary facilities. For more information, visit www.sullivan.edu.
Photo courtesy of Sullivan UniversityWinning team from left to right - Chef Derek Spendlove, Jessica Waked Diaz, Benita Gomez, Markeisha Crutcher, Jaelin Rifkind, chef Kendall Kneis.