Guest Speaker: Yes, Chefs Can Get Along with Owners
01 April 2012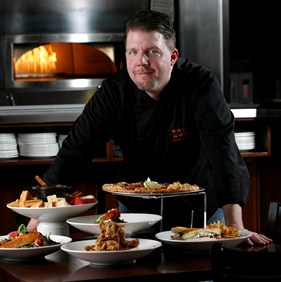 The executive chef of two-unit Saul Good Restaurant & Pub in Lexington, Ky., admits to learning a lot of hard lessons about how chefs and owners should get along, but he's gotten a crash course in doing it the right way from founder Rob Perez. Chef Mayer shares some insights into why he believes "ours is not the typical owner-operator and chef relationship."
By Jeffrey Mayer
I'm like a lot of chefs: a culinary dreamer who has a certain philosophy about the foods I want to cook. But when I first started talking to Rob about Saul Good, I saw the opportunity to work with him as a chance to learn a hell of a lot from a successful, business-savvy guy, somebody who knows how to make a whole concept work.
Rob's vision for Saul Good came from him reading that 76% of all dining decisions are made by women. Our target customer—women with nice handbags—came out of that, and everything else followed: the story, the food and all the principles that guide us. Everything we create, be it food, drink or service, goes through "The Woman Filter."
Ultimately, that made us focus on simple foods first, things our customers would like. But as we refined those basics, I was able to put our culinary twist on it, so I do have a creative outlet in the kitchen and bar.
Having that well-defined parameter of "women with nice handbags" is really beneficial to our relationship. If we challenge each other on an idea, it has to either be "on concept" or not. We both state our case, run it through that filter, and the best idea wins. That means it's not about personal opinion, it's about meeting our business model of selling great food and drink to that handbag lady. That way, ego isn't an issue. Having a well-defined vision also keeps Rob at a comfortable distance during the creative process—which is a huge benefit.
A lot of the time in restaurants, chefs win out because they demand respect for their ideas, and often they wind up on a pedestal. But there's no real business humility in that. I'm a chef and I'm creative, but I know that can only carry us so far. I've realized in the last 10 years of my 20-plus-year career that it's not just the creative piece that matters. It's much more. You've got to put on the different hat of the business owner to make the whole thing work. Rob helps me see that without being the kind of owner-operator who climbs down my throat about it. That's teaching and sharing the vision.
Because my partner and I share the same vision, it's easy to buy into it. It took a little reworking of the wiring in my head to be able to learn to switch from chef to businessman and back out again, but I've learned it. And I think that's why we're successful today.