Guest Speaker: An (ACF Chapter) Affair to Remember
01 April 2012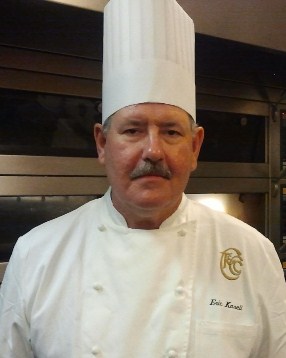 A member of the American Culinary Federation's chapter in Atlanta lauds the personal and professional value of attending a well-developed and executed monthly meeting.
by Eric Karell, CEC, AAC
I attended the April meeting of our chapter not really knowing what to expect. The last time I attended an ACF Greater Atlanta Chapter Inc. meeting was at least three years ago when I hosted the President's Gala at the Atlanta Athletic Club. Even though it was a beautiful spring evening and I was fairly tired from a busy weekend, I decided to drive the nearly 30 miles to the Halperns' Purveyors of Steak and Seafood's kitchen, research and training facility.
I was greeted warmly by some old friends at the door, Halperns' employees I have known for a dozen years. They gave me a raffle ticket and informed me there would be a drawing for some boxed steaks at the end of the meeting. Sounded promising.
I was directed upstairs to the "social area," and my jaw dropped. The food was incredible. On one side a chef was carving dry-aged lamb racks and Wagyu beef brisket. Next to that station was an enormous sushi display. Across the room was a seafood display with shrimp, crab claws, lobster salad and oysters. There was an open bar as well, but no one seemed interested in that.
Normally I would eschew the food and just talk to friends I had not seen for too long. In this case, I didn't. The lamb was out of this world. Literally nothing like I had ever eaten. The fact that it was dry aged gave me some education right there—I had no idea that lamb could be dry aged or wet aged or aged at all. The rest of the food, all Halperns' products, was just as excellent.
Eventually we were called in to the conference room for the meeting itself. I gazed wistfully at the sushi as I walked away. I sat next to one of my favorite people in the chapter, Chef Curtis Hicks, as kind and gracious a professional as you will find in the city. I often joke that I see him more outside of Atlanta at conferences and such than here.
Our chapter president, Michael Deihl, CEC, CCA, AAC, started the meeting with the pledge of allegiance. I'm not sure how you feel about the pledge. I know we have started every meeting with it since I've been a member of the ACF (since 1975). I never take the words in it for granted, and especially these days, it reminds me of our troops overseas and the sacrifices they make each second for our liberties.
Chef Michael then had Chef Phil Mastin read the Culinarian's Code. Now the meeting really began to take hold of me, personally. The Culinarian's Code is one of the cornerstones of our organization. It sets us apart from some of the European traditions of rivalry and secrecy in the culinary world. Its basis is respect for all in our field, and solidarity.
At this point I began to notice one major difference at this meeting from the ones I used to go to when I first came to Atlanta. Chef Deihl has completely knocked down the walls between chefs, students, purveyors and allied members. There is no difference between a club chef and a restaurant chef or a hotel chef and a student, etc. We are all members of the Greater Atlanta Chapter. This theme continued throughout the meeting. There was no sense of a clique, no sense of exclusion. Remarkable. And quite a change from some of the years I spent as an active member.
Chef Michael then had all the students, new members and other guests introduce themselves.
We all said a fond farewell to Chef Hermann Schatzer of the Georgia Tech Hotel & Conference Center, who is moving back to Europe to open a restaurant in the Alps. Chef Hermann has been a wonderful member of our chapter, always volunteering his time and efforts when needed. Chef Michael Klein of the Lake Lanier Islands Resort informed the group that he had several positions open at all levels.
If anyone is looking, I highly recommend Chef Klein as an employer. He is a great friend, one of the most intelligent men I have ever met and an excellent chef. The best endorsement I can give is that I worked with two of his former employees at Cherokee Town and Country Club, who both said that they sincerely loved the man.
Chef Michael then turned over the meeting to Ray Farmer, CEC, executive vice president of Halperns', for the educational part of the program. Chef Ray and I go a long way back. I succeeded him as president of our chapter, way back when dinosaurs roamed the earth. I also succeeded him as executive chef of the Atlanta Athletic Club. Chef Farmer is one of the most knowledgeable people in our city when it comes to food. And on a more personal note, he is as good a person and as genuine a friend as you can have.
Before Chef Ray started, he introduced one of the great figures of our city's culinary history and a man who, along with Joel Knox of Inland Seafood, probably contributed as much to the development of our Atlanta dining scene. Howard Halpern started in the produce business and soon realized the need for a true wholesale meat purveyor who could fabricate primal cuts for the foodservice industry. Mr. Halpern told us of his early days when he would cut steaks on a board set on top of stacked banana crates. He then went on to start Atlanta's first great meat company.
Mr. Halpern has such an influence on the city it is impossible to catalog. I have known him personally for more than 27 years, first meeting him through the Chaîne des Rôtisseurs. He also employed one of my greatest mentors, Thomas Catherall, CMC, for a while. Above all else, Mr. Halpern has always stood for excellence in every aspect of his life. Of everything that I experienced at the meeting, seeing Mr. Halpern again, healthy and vigorous and listening to him tell us about the history he shaped in Atlanta, was perhaps the most memorable.
Chef Ray then explained in detail about the dry-aging process for lamb and the science and art behind it. At that point he introduced Tina Roberts and Carlos Barba of Grove Lamb, the nation's largest domestic lamb producers. They gave an excellent presentation on value cuts of lamb. The prices on some of these items definitely got my attention as they went over Denver ribs, lamb necks, lamb bellies, short shanks and lamb t-bones. They also gave excellent ideas on proper cooking techniques, with Chef Michael adding that these types of cuts really bring out the true chef in you—taking something that's not a luxury cut and turning it into something just as exquisite to the palate.
Then Chef Michael wrapped things up by having the charming Ms. Roberts pick the winning raffle tickets. I would like to end the article by saying I won one of the prizes … but I didn't. I did get a certificate for one CEH, which I will need desperately when I renew my certification next year. Bonus.
I was more than happy I attended. Great food, great people, great education and a feeling that I didn't waste my time, but actually did something good for myself by attending. That's the way you should feel as a member of this chapter.
---
Eric Karell, CEC, AAC, is the executive chef of St. Ives Country Club in Johns Creek, Ga.