Guest Speaker: Fair Trade—a Chef's Perspective
31 January 2012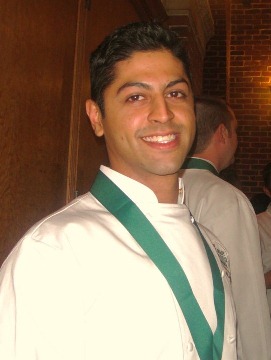 A student club at The Culinary Institute of America serves to enlighten and call to action on global social issues.
By Fareez Dossani
What an exciting time to be a part of the hospitality industry! Chefs are revolutionizing the way the entire world is eating. Never have we, as a society, been so conscious of our food. It's great that Americans are beginning to question where there food is coming from, but we must become more well-informed and ask if the food we purchase is fairly traded.
The local food movement has made great strides in reducing carbon footprints and teaching civil society to take advantage of the resources available at our fingertips. But we thrive on those commodity products that cannot grow on American soil, such as coffee and chocolate. This is where the notion of fair trade comes into play. Generally speaking, the global population is unaware of the labor-intensive process that takes place in order to produce that sweet cup of morning joe, which fuels our groggy mornings and those midday slumps.
Imagine waking up to a nicely brewed, fresh cup of Nicaraguan coffee. Now imagine waking up and, instead of walking into the kitchen, having to walk into your backyard to pick your own coffee beans. After several hours of hard work you realize that you have some extra coffee beans left. So you head to your neighbor's house to sell him the rest. He opens the door and hands you 3 cents for the entire pound. How would that make you feel? It's unfair how much back-breaking labor coffee farmers endure to make just a few pennies. Fair trade creates the opportunity for framers and their communities to flourish in poverty-stricken countries. It creates the chance for a better quality of life—something we take for granted just like that freshly brewed cup of Nicaraguan coffee.
What the practice of fair trade does for poverty-stricken countries is create a democratic society within each community. So how does the selling and trading process work? All farmers in the area pool together resources and labor to certify their harvest, which in turn is sold on the market with a price floor. For a small fee, the certifier company provides avenues for these farmers to get their products on the market without having the hassle of going through often corrupt middle men. Those middle men eat away at the farmers' profits. Fair trade guarantees the farmer a fair wage for their product, and those monies are distributed throughout the community. In a democratic process the community decides if they want to build schools, hospitals and other community infrastructure. The fair-trade movement is providing education to children, aiding in healthcare, empowering women, helping create safe working conditions, alleviating generational poverty and, most importantly, giving back these individuals their dignity.
I am proud to say that the Fair [email protected] CIA community has gone to great lengths to establish a fair-trade committee here at The Culinary Institute of America. Our team of inspired and dedicated students and faculty are committed to bringing awareness of fair trade and its impact on poverty-stricken countries to the student body. Through lectures, demonstrations and tastings, we've introduced fair-trade products to visiting guests, faculty and the student body. We are also working to implement strategies so that the campus will be considered for fair-trade status.
We have been successful in facilitating and organizing the following events:
May 14, 2011, World Fair Trade Day Brunch. The student body was invited to attend a brunch made with fair-trade organic and local ingredients. Dishes such as fair-trade coffee/spice-rubbed steak with eggs; local wild-hive polenta grits; fruit and yogurt parfait with fair-trade honey, pineapple and bananas; and fair-trade beverages were highlighted.
May 21, 2011, CIA Birthday Bash. To celebrate the CIA's 65th birthday, Fair Trade competed with three other clubs on campus (Gourmet Society, Expedition Thailand, SkillsUSA) in an event to see which club would receive the most votes for the best dishes made. The club supplied the students with three types of ice cream: fair-trade chocolate, vanilla and coffee. We did not win the competition, but we definitely ran out of ice cream. A most successful turnout with approximately 300 individuals in attendance.
June 6-10, 2011, Fair-Trade Coffee for All. The club sponsored organic fair-trade coffee for the entire student body and faculty. Each day a different region of the world was highlighted to introduce premium coffee while receiving direct feedback through surveys.
Thanks go out to our club advisor, assistant professor in Liberal Arts David Flynn, who has inspired and mentored us from the very beginning. Please reach out to us and offer insight or tell us about your fair-trade experience. We want to hear from you!
Fareez Dossani
Founder & President
Fair [email protected] CIA
This email address is being protected from spambots. You need JavaScript enabled to view it.
Facts You Might Not Know
It takes 4,000 hand-picked coffee beans to produce 1 pound of coffee.
Small coffee farmers receive less than 4 cents for each $3.35 latte sold in the United States
In fair-trade agreements, forced labor and exploitative child labor are not allowed.
All fair-trade coffees, teas and chocolates must use environmentally sustainable growing methods.
Fair trade is a partnership based on dialogue, transparency and respect that seeks greater equity in international trade.
---
Currently pursuing his B.P.S. in Culinary Arts Management at The Culinary Institute of America in Hyde Park, N.Y., Fareez Dossani, a native of Lawrenceville, Ga., expects to complete his studies in March 2012. Fareez is a recent recipient of the Jones Dairy Farm Scholarship Award at the CIA.