Guest Speaker: An Appetite for the Farm
04 January 2012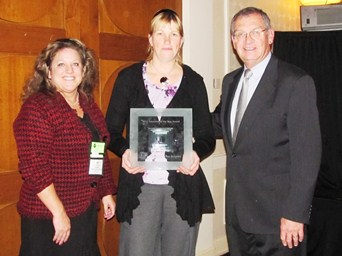 Women Chefs & Restaurateurs' 2011 Educator of the Year acknowledges that any chef can serve virtually anything any time of year. But what have we sacrificed? Today's culinary student is caught in the middle.
By JoAnne E. Cloughly
Some people say the Farm to Table movement is past tense. On the contrary, it is running full swing. When you think about what Farm to Table means, logic tells us that it means bringing fresh food from the farm to the dining table. It means supporting our local producers—the small family farm, the beekeeper, the rancher, the vineyards and much more. The results are keeping these businesses "in business" and, in exchange, being the recipient of the freshest products possible.
This is nothing new. Take a look back in history and you see this same pattern everywhere in the world, throughout time. Families raised their own food and they bartered for things they couldn't produce themselves. It stayed local. Yes, the world was smaller and there were fewer options, but do we really need to have access to everything in the world? Do we need tomatoes in January?
Over time we can see a shift to mass-produced goods. As everyone's lives became hurried, these "industrialized" goods have made our lives easier. The chef can simply open a can or a box. But what have we sacrificed? We have lost the elegance of a good meal, of time with our friends and family, and more. The chef has most likely streamlined the kitchen and possibly saved on production cost.
Today's culinary student is caught in the middle. We, the chef educators, teach them classic skills: those sauces and knife cuts and charcuterie skills that have been with us for many, many years. But reality is different. They graduate and enter the working world and find it so different. They have to learn to incorporate those convenience products into the everyday menu and still put out a meal that is a palate pleaser. We hear our students say "We never learned that in school!" with a sense of frustration.

Our world is changing. People are recognizing that the sacrifice of that Farm to Table taste has left them with less-than-exceptional dining experiences, and they are beginning to demand more. Our economy is another factor—a chef can have an herb gardens and he or she can buy local at much more reasonable prices. Culinary schools turn out young cooks who can work with these products because we taught them to do so. If we can keep educating our students about the benefits of Farm to Table and about the background of where the food they work with comes from, we will keep the movement going. We can encourage studies in food history and farm production to further that understanding of food. We will reach another paradigm in the culinary world where mass-produced convenience foods are second to fresh foods, cooked properly and served with elegance.
We need to continue to educate our students on the classic skills. We can incorporate field trips to farms and cheesemongers, local vineyards and breweries. We can get them excited about the benefits of local goods and they, in turn, will bring this to the plate they are creating—a true work of art—representing what their world can provide within the season.
We, the educators, can keep this movement going, however "old" it may be. Farm to Table will be with us for a long time!
---
JoAnne E. Cloughly, CEPC, CCC, is an associate professor of culinary arts in the Hospitality and Tourism Department at SUNY Cobleskill, Cobleskill, N.Y., and Women Chefs & Restaurateurs' 2011 Educator of the Year.
Photo: JoAnne E. Cloughly (center) receives WCR's 2011 Educator of the Year Award from Don Odiorne, vice president of foodservice for award sponsor Idaho Potato Commission, and Jami Yanoski representing the IPC.