Kendall College School of Culinary Arts Instructor Elaine Sikorski Authors Cooking to the Image: A Plating Handbook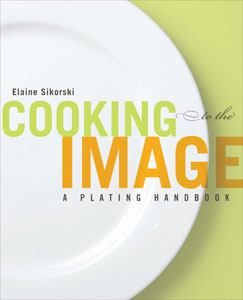 Chef Elaine Sikorski, CEC, CCE, an instructor at Kendall College School of Culinary Arts, is the author of the recently published Cooking to the Image: A Plating Handbook (Wiley, 2012). This is Sikorski's debut publication. Resulting from years of teaching and cooking practice, Plating relates the look of plate presentations to chefs' beliefs about food, situated in the larger culinary context. Beginning from a historical menu perspective, the book offers a complete design methodology to plating. Chapter topics include "Platter to Plate: Classical Style," "Plate Frame: New American Style and Fusion Style," "The Emerging Menu: Interactive Table Setting" and "Design and Culinary Plate Archetypes." End chapters address finding inspiration, critiquing culinary art and culinary values.
According to Sikorski, more professional cooks are thinking visually about creating food. To do so successfully, a chef needs to recognize how form and function translate to appearance and flavor on a plate. "About 10 years ago, I was teaching plate presentation at Kendall, and realized that I could tell students that something wasn't working, but I couldn't really tell them why," Sikorski says. "I couldn't express what I knew.
"I embarked on an exploration of plate presentations to develop archetypes, and I discovered that it's not just about the presentation 'working'; the plate must also fit a culinary style. To successfully train the cooks of tomorrow, we have to provide them not only with the necessary technical skills to achieve their desired results, but also the ability to recognize previous food styles so that they may develop a strong personal style to express flavor."
Cooking to the Image: A Plating Handbook is the result of Sikorski's decade-long exploration and discovery. Her highly visual, full-color, 175-page paperback text is designed for chefs, foodservice managers, retailers, culinary students and instructors. An electronic version is also available. For teachers, available supplements include an online Instructor's Manual, image gallery, PowerPoint lecture and reference materials, and a test bank and answer key.
Sikorski brought a wealth of industry experience to Kendall when she joined the faculty as a chef instructor in 1997. She had led the kitchens at famed Le Perroquet in Chicago, as well as Les Nomades. For six years, she worked as a chef in the Alsace region of France.
At Kendall College, Sikorski teaches advanced sauces and fish cookery, among other courses. She has received two of the college's highest honors for teaching excellence. For more information on Cooking to the Image: A Plating Handbook, visit www.wiley.com.