Sullivan University Student Wins S.Pellegrino's Almost Famous Chef regional competition in Chicago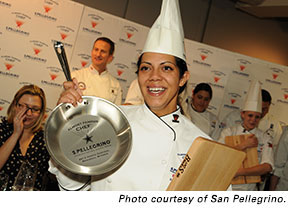 On Jan. 14, Sullivan University student Kamisha Jones won first place at the S.Pellegrino Almost Famous Chef North Central Regional Competition at Kendall College in Chicago.
Jones is a Louisville native and a sixth-quarter student at Sullivan University's National Center for Hospitality Studies. She bested seven other competitors with her poached, pan-seared duck breast over Moroccan-spiced whipped sweet potatoes with apple infused demi-glace and cranberry/apple chutney, garnished with roasted apple and microgreen salad. Jones will compete against the other regional winners in the Almost Famous Chef finals March 8-11 at The Culinary Institute of America at Greystone, St. Helena, Calif. Jones was one of two Sullivan University students to participate in this year's competition, as Alison Settle of Sullivan's Lexington campus also submitted a dish.
For centuries, S.Pellegrino® Sparkling Natural Mineral Water and Acqua Panna® Natural Spring Water have complemented fine food, wine and dining experiences. This passion for culinary arts led to the creation of the Almost Famous Chef Competition in 2002. Each year, they host the leading culinary schools across the United States and Canada in a spirited cooking competition that spotlights the best and the brightest. Culinary students compete before the food media, distinguished guests and renowned chefs at regional competitions in January and February. The winners move on to the final competition in Napa Valley, where they will compete for up to $22,000 in prize money, a one-year paid apprenticeship with a celebrity chef and a chance to recreate the winning dish during an extensive media tour.