CMAA Leader James Singerling Announces Retirement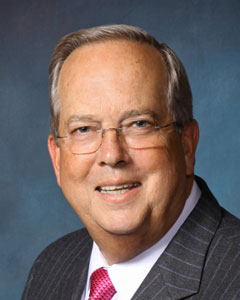 Club Managers Association of America (CMAA) CEO James B. Singerling, CCM, on Jan. 16 announced his intention to retire in 2015, completing 25 years of service. The early timing of the announcement is consistent with the terms of Singerling's contract and will allow him to assist in the transition to a new CEO by his retirement date.
"The opportunity to lead this organization and continue to develop the club industry and its leaders has been tremendously gratifying," said Singerling. "Our industry is well-positioned to continue expanding the scope and reach of clubs across the nation while also providing jobs and supporting local small businesses as we have for decades."
Singerling began serving as CEO in 1990 and is credited with elevating the professional role of club managers by creating industry-standard development and certification programs. Over the past two decades, he spearheaded efforts to adopt the general manager/chief operating officer model at clubs nationwide, raising the qualifications and quality of club managers. Singerling is also recognized for building new relationships for the industry with federal and state governments and within the association community.
In addition to his work within the United States, Singerling was instrumental in the development of professional club-management associations internationally, helping other nations elevate the role of club managers by adopting professional standards and certifications. Regions where his leadership is recognized include South America, Australia, China, South Africa and the Asian-Pacific corridor, among others.
"Jim is a visionary, leader, teacher and mentor. He is an advocate not just for the members of CMAA but for the club and golf industries," says CMAA President Lawrence "Skip" Avery, CCM, CCE. "We owe Jim our deepest gratitude for his steadfast efforts and years of service to our Association and the industry."
Prior to becoming chief executive at CMAA, Singerling was a leader in the golf-course design and management companies of Robert Trent Jones, Sr., and also served as vice president and general manager of the Coral Ridge Country Club in Ft. Lauderdale, Fla.
Singerling has been recognized as Industry Leader of the Year by the University of Nevada, Las Vegas, and Michigan State University, in addition to receiving awards from Florida State University, Pennsylvania State University, Oklahoma State University and Sun Yat Sin University–China. He also was elected to the Association Committee of 100 by the U.S. Chamber of Commerce, widely recognized as the most prestigious organization of chief executives in the United States.
CMAA expects to begin a nationwide search for a new CEO in 2014, allowing Singerling to work with the new incumbent to ensure a smooth and productive transition.