American Culinary Federation Partners with Indianapolis' The Chef's Academy to Offer Four New Scholarships Totaling $20,000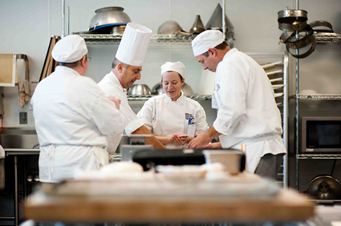 High-school students seeking assistance with the rising cost of culinary school are in luck. The American Academy of Chefs (AAC), the honor society of the American Culinary Federation (ACF), the nation's largest professional chefs organization, and The Chefs Academy (TCA), an ACFEF-accredited program in Indianapolis, are pleased to announce four new scholarships available for students accepted to TCA, totaling $5,000 over four years.
"ACF is thrilled to be working with TCA to provide scholarships that will help mold tomorrow's culinary leaders," said Rajeev Patgaonkar, CEC, AAC, ACFEF AAC Scholarship Committee chair. "This partnership shows that TCA is dedicated to helping students achieve their goals. We hope that high school students will look into the scholarship requirements and submit their applications by the April 30 deadline."
Four yearly scholarships of $625 per academic term for four years will be awarded and applied directly to students' accounts at TCA. Scholarships are available for high-school students who have been accepted to TCA and plan on becoming a chef. Applications are available at www.acfchefs.org/scholarships and are due April 30 of each year. Scholarship money will be applied in the fall semester. The AAC Scholarship Committee will select the 2012 winners in June.
"We are proud to partner with the American Culinary Federation," said Jayson Boyers, national division president at The Chef's Academy. "Our organizations share a deep commitment to educating the culinary leaders of the future and these scholarships will be tremendously appreciated by students looking for assistance in achieving their dream to become a chef."
Who is eligible?
• Exemplary students who have maintained a cumulative GPA of 2.50 or higher during their senior year
• High-school seniors eligible to graduate the same year as the scholarship is applied for
• Students who are currently accepted to TCA with a major in culinary or pastry arts
• Those with a career goal of becoming a chef or pastry chef
What do I need to apply?
• Completed application and essay
• Two letters of recommendation from industry culinary professionals and/or culinary educators
• Sealed final official transcript showing current GPA
The American Academy of Chefs offers educational scholarships to high=school students entering culinary school, as well as to those currently attending culinary school. The scholarships are given throughout the year to qualified applicants who meet a strict set of requirements. These scholarships help young culinarians achieve their educational goals. Last year, the AAC, through its partnerships, distributed $46,000 in scholarship funds to culinary students. In addition to TCA, AAC also currently offers scholarships to Johnson & Wales University and The Culinary Institute of America.