Know Your Idaho® Potatoes: New Brochure Delivers the Facts on Russet and Other Varieties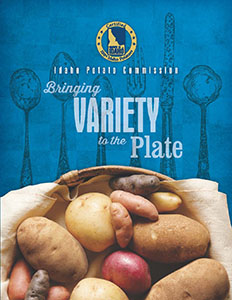 Idaho® potatoes­—the term refers to their source of origin—are renowned for quality and reliability in all 50 states. While most consumers and foodservice operators associate the Idaho trademark with russet potatoes, Idaho growers are seeding fields with new varieties to meet a burgeoning demand for reds, yellows and other niche varietal potatoes.
To help all Idaho potato customers find the variety that best fits their menu needs, the Idaho Potato Commission (IPC) has created "Bringing Variety to the Plate," a full-color brochure that details the qualities, characteristics and applications for almost 30 potato varieties. For example, the commercially successful Russet Burbank is a late-maturing variety, oval shaped and thin skinned with a distinctive, earthy potato flavor. It bakes fluffy, fries crispy and is well suited to all applications.
To order a complimentary copy of "Bringing Variety to the Plate," contact the IPC at This email address is being protected from spambots. You need JavaScript enabled to view it.. To research menu concepts using all the Idaho potato varieties, visit the IPC recipe database at foodservice.idahopotato.com/recipes. While on the site, check out the helpful size guideand Idahopotato preparation tips, and find answers and solutions to operational and culinary FAQs.