National Honey Board Introduces Comprehensive, New Honey Beverage Guide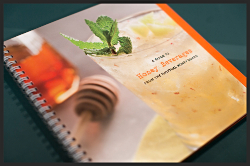 The National Honey Board (NHB) has introduced a colorful, eye-catching, new, information-rich resource, A Guide to Honey Beverages. Serving as a complement to the Sweet Stirrings cocktail guide (2012), the honey beverage handbook features nearly 40 spiral-bound, laminated pages replete with honey tips, tricks and on-trend recipes to help operators enhance their non-alcoholic and alcoholic beverage menus and programs.
The new honey beverage guide includes the following highlighted, tabbed sections:
Honey 101 – includes the story of honey; measurement, storage and handling; varietals
Honey at the Bar – Great Beginnings (includes honey simple syrup and honey lemon elixir recipes); Finishing Touches (creative garnish and other ideas); and trending cocktail recipes from Liquid Kitchen's Kathy Casey, Liquid Architecture's Kim Haasarud and more; plus Mead and Beer overviews, tips and trends
Non-Alcoholic Beverages – a range of on-trend recipes (includes housemade sodas, blended drinks and mocktails) for sweet inspiration
Perfect Pairings – optimal honey-spirit pairings from Master Mixologist Kim Haasarud and best honey-tea pairings from tea sommelier Cynthia Gold
"Honey is more than just a sweetener … It is an incredibly versatile beverage ingredient," says Haasarud. "It can serve as a backbone flavor, or you can use different honey varietals to really punch up specific notes in cocktails and spirits."
The complimentary honey beverage guide will be featured at select 2015 industry conferences and is available on a limited, first-come basis via the NHB's website at www.honey.com/foodservice.