Emmi Roth USA Foodservice Sales Team Participates in Professional Culinary Education Training at Johnson & Wales University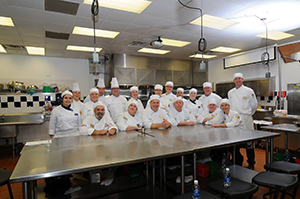 To further their understanding of the needs and expectations of chefs in the foodservice industry and expand their culinary knowledge and skills, the Emmi Roth Foodservice sales team participated in a culinary training program at Johnson & Wales University in Charlotte, N.C., January 19-23.
"Our team strives to understand our customers' day-to-day challenges and opportunities both in the kitchen and on the menu," said Linda Duwve, vice president of sales and marketing at Monroe, Wis.-based Emmi Roth USA. "Hands-on training programs like these allow our team to deliver better products, information and service to the foodservice industry."
In preparation for the four-day training, each team member completed an accredited food-handling safety training course and earned his or her Food Safety Manager certification through the National Registry of Food Service Professionals. While onsite at the university, the team attended lab courses with students, participated in one-on-one food-safety and culinary-skills sessions with chef-instructors Donald Brizes and Robert Brenner, and executed in-kitchen assignments. The rigorous educational program was customized by JWU specifically for the Emmi Roth Foodservice team.
To celebrate the completion of the culinary-immersion program, the team prepped and hosted a reception for faculty, students and school alumni featuring Emmi Roth cheeses paired with wine and beer.
"Our team is grateful for the opportunity to work alongside such passionate educators and bright students," said Duwve. "From this experience, each of our team members is taking away not only a better understanding of the needs of foodservice professionals, but new skills they can use in their own culinary adventures. This was an experience that our team will remember forever, and we look forward to continuing to build a partnership with Johnson & Wales in the future."
For more information about Emmi Roth Foodservice, visit www.emmirothfoodservice.com or follow Cheese4Chefs on Facebook.