Jones Dairy Farm Sponsors Teaching Kitchen at The Culinary Institute of America's New Student Commons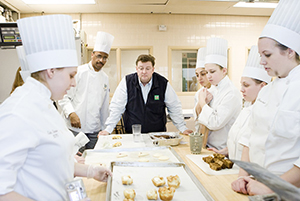 The Culinary Institute of America is naming the high-volume-production teaching kitchen in its new Student Commons at the Hyde Park, N.Y., campus after Jones Dairy Farm in recognition of the company's ongoing support of the college.
The Jones Dairy Farm Line and Kitchen will be a centerpiece of the dining area of the Student Commons building and home to CIA classes in high-volume breakfast, lunch and dinner cooking. The facility, currently under construction, is part of a major expansion and renovation of the CIA's Student Recreation Center, and is scheduled to begin serving CIA students in the summer of 2015. The existing high-volume-production kitchen, in the college's Roth Hall, was dedicated to Jones Dairy Farm in 2006.
"The CIA is deeply grateful to once again partner with Jones Dairy Farm in our drive to provide the world's best culinary education," said CIA President Tim Ryan, CMC. "Our organizations have a 20-year relationship, through which we are advancing our goals of excellence, entrepreneurship and innovation for our students."
Jones Dairy Farm is a 125-year-old family-owned and operated business and leader in all-natural breakfast sausage for the foodservice and retail industries. The company is based in Fort Atkinson, Wis.
In addition to supporting the creation of this newest teaching kitchen, Jones Dairy Farm has championed the education of future industry leaders at the CIA by sponsoring student culinary teams, providing its products for use in hands-on kitchen classes, and underwriting the CIA's Worlds of Flavor® Conference and Leadership Awards.
According to Philip H. Jones, sixth-generation president of Jones Dairy Farm, his company is most proud of the Jones Dairy Farm Scholarship Fund that supports CIA juniors and seniors pursuing baccalaureate degrees in Culinary Arts Management. One of the most sought-after scholarships at the CIA, Jones Dairy Farm has awarded nearly 30 recipients to date.
"Our involvement with the CIA has always been about the students, and we could not be more honored to be a partner in this major expansion that advances education and hands-on training at the Hyde Park campus," said Jones, a professionally trained chef. "Located in the hub of student life on campus, the new Jones Dairy Farm Line and Kitchen will continue our unwavering and long-term commitment to the entire student body at the college."
When completed, the innovative food operations in the 97,000-square-foot Student Commons will also feature a pop-up restaurant run by bachelor's students in the college's "Intrapreneurship" concentration, a marketplace, a microbrewery and à la carte student dining. The Commons also includes a gymnasium that is home to the CIA's intercollegiate basketball and volleyball teams, racquetball courts, indoor pool, cardio and weight rooms, exercise studio and facilities for student clubs.
---
Photo:
Philip Jones, president of Jones Dairy Farm and a professionally trained chef, talking with CIA students about gluten-free foods during a visit to the college's Advanced Baking Principles class. Courtesy of CIA/Keith Ferris