CMAA Announces Passing of Club Industry's Leading Educator, Joe Perdue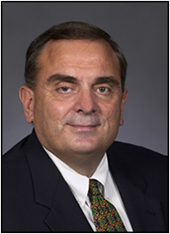 Joe Perdue, CCM, CHE, the club industry's leading hospitality educator, died in Atlanta on Jan. 19, 2015, after a long illness. He was 64.
Since 1986, Perdue had served as academic advisor for the Alexandria, Va.-based Club Managers Association of America (CMAA). Responsible for the initial development of CMAA's Business Management Institute (BMI), Perdue coordinated more than 300 weeklong BMI programs for more than 10,000 managers. The Business Management Institute is a flourishing professional-development program that has become the most well-respected education initiative of the hospitality industry. Beyond the United States, Perdue developed professional education programs in China, South Africa, Europe and Canada.
In addition to serving as academic advisor, Perdue held the positions of director of education and vice president for CMAA, where he was responsible for all professional-development and certification programs. He continued to have responsibility for overseeing CMAA's BMI program and certification exam, study materials and certification review course.
Perdue was a former club manager at the Cherokee Country Club in Knoxville, Tenn., and was a member of CMAA since 1981. He earned the Certified Club Manager designation in 1994 and became a member of the Honor Society in 2003. He also earned his Certified Hospitality Educator credentials in 2005.
"Joe was a remarkable advisor, innovator and colleague," said Kathi Driggs, CMAA's chief operating officer, who worked with Perdue for 25 years. "He was the face of CMAA's Business Management Institutes and invested countless hours into the success and growth of these programs. Joe served as a mentor and friend to many CMAA members. He was a beloved educator and an outstanding friend, admired by his students, academic peers and throughout the club industry."
Perdue was the editor or co-author of three textbooks including Contemporary Club Management, Second Edition, the primary textbook used in university club management courses and for CMAA managers preparing for the Certified Club Manager exam; A Club Manager's Guide to Private Parties and Special Functions; and Discovering Hospitality and Tourism, The World's Greatest Industry, Second Edition.
Perdue served as a member and past chair of the Board of Commissioners of the Accreditation Commission on Programs in Hospitality Administration, the Board of Governors of The Club Foundation, member of the Educational Policy Board of the Club Managers Association of Europe and served as one of 12 international faculty members for the Certified Hospitality Educator program of the American Hotel and Lodging Association. He most recently served on the Career Development Committee of the Golf Course Superintendents Association of America.
An Alabama native, Perdue received a Bachelor of Science from Auburn University and a Master of Science from the University of Tennessee. He served on the faculty of the College of Business, School of Hospitality Management, Georgia State University, William F. Harrah College of Hotel Administration at the University of Nevada, Las Vegas, the University of Tennessee and as an adjunct faculty member at Auburn University.