Idaho Potato Commission Honors Innovations in Teaching at 2014 CAFÉ Leadership Conference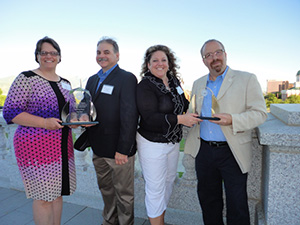 Foodservice educators across North America earn recognition for their creativity in the culinary classroom.
The Idaho Potato Commission (IPC) recognized three educators in the 2014 CAFÉ-Idaho Potato Commission Innovation Awards at the 10th-annual Leadership Conference of the Center for the Advancement of Foodservice Education (CAFÉ) in Salt Lake City this summer.
Cary York, a culinary teacher at East Jessamine High School, Nicholasville, Ky., received the top award for the school's Greenhouse and Food Preservation program, in which culinary, chemistry and science teachers and students collaborated to enable cross-teaching in multiple disciplines.
Culinary students planted seeds and seedlings to observe the growth of vegetables and herbs, which were used in the culinary and special-education food-preparation classes. They also took food production to a higher level by preserving their harvested products: drying herbs, freezing peppers and tomatoes, and making salsa, pickles and jellies. Associated lesson plans included "The Gardener's Chemistry: Measuring Soil pH"; "The Question of Additives"; and "Molecular Gastronomy."
For her first-place recognition, York received a cash award of $1,500 from the Idaho Potato Commission and a full registration to CAFÉ's 2014 Leadership Conference.
Two runners-up each received a complimentary registration to the Leadership Conference and up to $500 in reimbursed travel expenses.
Dr. Samuel Glass, CEC, CCE, AAC, academic coordinator and instructor at the Culinary Arts Centre at Centennial College of Hospitality, Tourism and Culture, Toronto, was recognized for the Centre's capitalizing on the greater area's vast cultural diversity to create a unique culinary program that is innovative while delivering a practical outcome. The two-year Culinary Management/International diploma is based on the premise: "The method is the constant and the ingredient is the variable."
In the first semester of the program, students take two practical classes in which they learn the essentials of cooking and baking. In ensuing semesters, students' newly acquired skills are applied to cuisines of the world, including Europe, the Middle East/Mediterranean and South Asia. Students discover that cooking is truly a portable skill with which they can apply their knowledge to most cuisines and produce food representative of the region or country they are in.
Dr. Colin Roche, CEC, CCE, CHE, FMP, department chair and assistant professor at Johnson & Wales University's College of Culinary Arts, N. Miami, Fla., demonstrated how the principles of his "flipped classroom" resulted in higher grades among students in his Menu Planning & Cost Control class, as well as increased their enjoyment and class participation.
Flipping a classroom is a pedagogical approach that is learner centered and in which class time is dedicated to creating rich learning opportunities by exploring topics in greater depth. Direct instruction is shifted from the group learning space (classroom) to the individual learning space (home). According to Roche, it boiled down to his asking himself the question: "What is the best use of class time?" In his flipped classroom, students review the lecture online prior to the class session and spend their time in class working on problems or exercises that would have been traditionally assigned as homework.
Additionally, the Idaho Potato Commission awarded scholarships to foodservice educators to attend the 2014 CAFÉ Leadership Conference based on their use of technology to enhance the curriculum. Three recipients, each receiving a complimentary conference registration and up to $300 in reimbursed travel expenses, were Terry Jones of Gallup High School, Gallup, N.M.; Wendy Jordan of Shorewood High School, Shoreline, Wash.; and Nadia Minniti of Wilson Community College, Wilson, N.C.
About the Idaho Potato Commission
Established in 1937, the Idaho Potato Commission (IPC) is a state agency that is responsible for promoting and protecting the famous "Grown in Idaho®" seal, a federally registered certification mark that assures consumers they are purchasing genuine, top-quality Idaho® potatoes. Idaho's growing season of warm days and cool nights, ample mountain-fed irrigation and rich volcanic soil, give Idaho Potatoes their unique texture, taste and dependable performance, that differentiates Idaho® potatoes from potatoes grown in other states.
---
Photo (l. to r.): 2014 CAFÉ-Idaho Potato Commission Innovation Award recipient Cary York; Armand Lobato, Foodservice Promotion Director, West, Idaho Potato Commission; Jami Yanoski, Idaho Potato Commission; and award runner-up Samuel Glass. Not pictured: award runner-up Colin Roche.