CIM Port Huron Students Win Gold Medals, "Best of Show"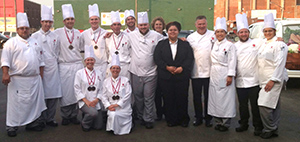 Baker College of Port Huron Culinary Institute of Michigan (CIM) students brought home five of the seven medals awarded to student culinarians at Detroit's Eastern Market mystery basket competition recently. The competition was part of a fundraising event for Rising Stars Academy, a cooking school in Centerline for special-needs students ages 18-26.
There were 16 two-person teams from area culinary schools in the competition. Four teams represented Baker College of Port Huron. Each team was given 10 minutes to review a basket of "mystery" ingredients, then an hour to create a taste-tempting creation. Awards were presented for taste, presentation and Best of Show.
It was a clean sweep for CIM Port Huron students in the taste category. Gold-medal winners Jon Strauchman of Smiths Creek and Joe Ajja of Warren also won Best of Show. The other CIM Port Huron teams that brought home awards for the taste category were:
• Silver medal: Gavin Pierce of Warren and Ron Cary of Flint
• Bronze medal: Jill Tucker of St. Clair and Heidi Lohn of Port Huron
Tucker and Lohn also won the gold medal for presentation.
The team of Saengaroon Rhodes of St. Clair and Shawn Kraft of Harbor Beach rounded out the Baker College competitors. Several other CIM Port Huron students were also involved in the training exercises in advance of the competition and provided support to the Baker College competitors at the event.
"Our students performed like true professional culinarians," said Thomas Recinella, CEC, ACE, AAC, CIM Port Huron director of the culinary-arts and food-and-beverage-management programs. "They carried themselves with poise and confidence and were gracious to their competitors. The judges were impressed by the complexity of the items that the Baker College students selected to create in 60 minutes—such as fresh pasta and sausage—and with the students' flawless execution of their dishes."
Several days in advance of the competition, the teams were informed that the protein would be pork loin. The entrants were free to make anything they wanted to include in their dish. The "mystery" ingredients were all fresh produce. The challenges for the student culinarians were "having the skills to prepare fresh produce and, more importantly, having the knowledge of what is possible to prepare in an hour," Recinella said.
The Baker College students are accustomed to preparing fine-dining food quickly, due in part to their participation in the student-run teaching restaurant, COURSES, at the CIM Port Huron.
"It was an excellent display of the solid training and preparation that students receive at Port Huron's Culinary Institute of Michigan," Recinella said. "They truly represented the CIM brand and Baker College very well."
The CIM Port Huron COURSES restaurant is open to the public for lunch while classes are in session. During summer quarter, it's open July 9 – August 22, Wednesdays through Fridays, 11:30 a.m. to 2 p.m., though the last reservation for seating is at 1:15 p.m. Reservations are required and can be made by calling (810) 357-0875.
For more information about the Baker College of Port Huron culinary-arts program, contact Daniel Kenny in the admissions office at This email address is being protected from spambots. You need JavaScript enabled to view it., (810) 985-7000 or (888) 262-2442.
---
Photo:
The Baker CIM team (standing, from l.) Eric Edwards Sr., Marc Iles, Joe Ajja, Gavin Pierce, Ron Cary, John Strauchman, Shawn Kraft, Candace White, Corsandra Bowden, Chef Andy Fabian, Saengaroon Rhodes, Chef Nick Cornfield, Marisol Andrades, (kneeling, l. to r.) Heidi Lohn and Jill Tucker. Not pictured: Chefs Tom Recinella and Paula Recinella.