U.S. Highbush Blueberry Council Launches Redesigned Website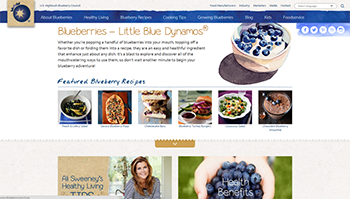 Consumer interests and industry needs were the driving forces behind the U.S. Highbush Blueberry Council's (USHBC) recent website overhaul and launch. Fresh design, a streamlined format and the optimized platform for mobile and tablet viewing provide industry professionals and consumers alike with a consistent and engaging experience.
Since the website's launch in early July, the Blueberry Council has seen a 557% increase in website visits since June and a 290% increase in website visits over July of last year.
"The Blueberry Council is committed to creating positive interactions with blueberries that encourage more consumers around the globe to make little changes for a healthier lifestyle," said Mark Villata, executive director of the USHBC. "What we've created with this site is a one-stop-shop for relevant and current information about the health benefits of blueberries, the various forms of blueberries and how to use them, as well as creative and simple-to-make recipes. These elements, coupled with many others, are packaged in way that will extend the reach of the Council's efforts and keep visitors coming back for more."
Enhancements to the Blueberry Council website include an augmented foodservice section (with a new video and infographic); enhanced share-ability of recipes, images and blog posts; search-engine-optimized content; a new section launching soon for health professionals and more.
"Since the Council's establishment in 2000, our promotional efforts in the U.S. have contributed to increased highbush blueberry consumption, which has more than doubled," said Villata. "Ongoing enhancements to our online presence are a critical component to maintaining that momentum."
To explore the new website, visit www.littlebluedynamos.com. For ongoing updates, subscribe to The Blueberry Blog, and follow on Facebook, Twitter, Instagram and Pinterest.