Supovitz, Goldwater Update Only Book to Unite Sports Marketing and Event Management into a Single, Integrated Approach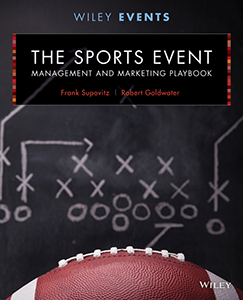 Flawless execution of sporting events is essential to keep audiences excited, viewers tuned in, participants engaged and sponsors fulfilled. As a sports-event planner, how do you keep up with the trends of the ticket-buying public, sponsorship and merchandising while at the same time attend to the hundreds of management and operational details required to effectively pull off the event?
Every step of the planning process for developing, planning, managing and executing flawless sports events is explored in the authoritative Second Edition of The Sports Event Management and Marketing Playbook (Wiley, ISBN: 978-1-118-24411-1, $73.95 and e-books) by Frank Supovitz and Robert Goldwater.
This updated and expanded resource for the real world offers expert advice on how to properly build sports events into successful and financially viable properties. Authored by the Senior Vice President of Events for the National Football League and a veteran sports-industry professional, the Second Edition of The Sports Event Management and Marketing Playbook offers both first-time planners and seasoned organizers the expertise and framework for staging top-quality sports events at any level—from the community to the global stage.
Along with numerous valuable checklists and forms such as event expense and revenue worksheets, a sample host-city RFP, public-address announcements and a sample sponsorship agreement, The Sports Event Management and Marketing Playbook, Second Edition, features:
• New, helpful charts and figures that ensure every detail is considered before the gates open and the scoreboard clock begins its inexorable countdown.
• Illustrative Sideline Stories that include more real-life anecdotes from the field, providing vivid examples of best practices, as well as plays proven best to avoid.
• Revised Post-Play Analysis summary sections and Coach's Clipboard review exercises reflecting new content per chapter.
• A companion website—a new tool that contains even more success-critical forms, sample documents and checklists—that will be refreshed regularly as information is updated and innovations are introduced.
The Second Edition of The Sports Event Management and Marketing Playbook helps event organizers apply the latest and best industry practices to methodically plan, monitor, manage and evaluate their progress during the entire event-planning process. It offers an organic view of sports-event planning and, as a result, is the only book to truly combine the disciplines of sports marketing and event management into a single, integrated approach.
Frank Supovitz is the senior vice president of events for the National Football League and has organized more than 200 major live and televised sports and entertainment events in North America, Europe and Japan. Over more than two decades, he has led the events departments for the National Football League and National Hockey League. His event credits include the Super Bowl, Pro Bowl, NFL and NHL Drafts, the Stanley Cup and the NHL All Star Weekend.
Robert Goldwater has had management and marketing responsibilities for a notable range of sports, entertainment and special events at major venues during his distinguished career. His unparalleled combination of executive experience includes his years at Madison Square Garden, STAPLES Center and RFK Stadium and, since 2005, leading The Goldwater Group consulting firm. He is also an adjunct professor with Georgetown University's Sports Industry Management graduate program.
For more information on The Sports Event Management and Marketing Playbook, Second Edition, visit www.wiley.com.