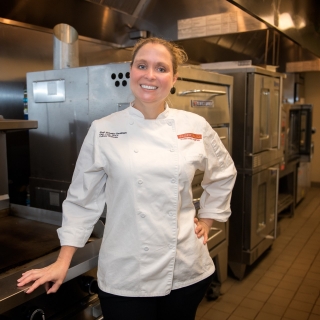 Turning Active Learning Loose in the Culinary Classroom
30 December 2020
New GMC stories focus on ideas and activities geared toward active learning instructing.
By Lisa Parrish, GMC Editor
How many culinary students would say a lecture is their favorite method to learn? Was the answer, not many? If so, that would support research stating culinary arts students are kinesthetic and visual learners. Am I stating the obvious? Perhaps, but what is not as obvious is how to take a traditional class presented in lecture format and turn it into creative and engaging hands-on activities.
One culinary instructor stands out for her ability to take an imperative and information-laden class and create an active learning situation that cemented knowledge and had her students asking for more.
Dr. Jennifer Denlinger, Culinary Management Program department chair at the Poinciana campus of Valencia College, transformed her Food Safety and Sanitation exam review into an escape room activity where the more information the students retained the farther they progressed in the escape room. This activity proved so successful she earned the 2020 Innovation Award sponsored by CAFÉ and the Idaho Potato Commission for her efforts.
She said in her award application, "I have taught this class hundreds of times. It is a very tough class with lots of memorization. The goal is to help students work on a better way to learn the information needed and apply it to real-world scenarios."
Creating active learning activities requires imagination and an open mind. With that in mind, I have asked Dr. Denlinger to write a series of Gold Medal Classroom articles featuring her suggestions for culinary arts active learning ideas.
She said her philosophy is "to create a unified culinary arts teaching system that embraces presenting information to students in multiple manners simultaneously with an emphasis on creating real-world, hands-on active learning examples." She feels this benefits students more than the traditional approach of augmenting lessons with video content.
According to Dr. Denlinger, creating an active learning inventory is not as difficult as an instructor might think even with a limited budget. She suggested these supplies: index cards, writable blank magnets and magnetic white board, empty cardboard boxes, mason jars, blank paper and colored markers and most important an open mind.
Look in the next edition of the Gold Medal Classroom for an article by Dr. Denlinger who will suggest how the above supplies can be utilized in active learning scenarios.