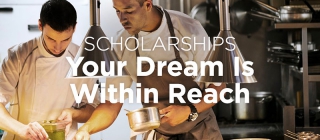 $800,000 in Scholarships Offered by the NRA Educational Foundation
30 January 2019
Scholarships and grants in culinary arts, restaurant management and hospitality currently available.
By the National Restaurant Association Education Foundation
Students, military servicemen and women, foodservice educators and more can apply for scholarships and grants to pursue jobs and careers in the restaurant, foodservice and hospitality industry.
Each year, the National Restaurant Association Educational Foundation (NRAEF) awards more than $800,000 in scholarships and grants to students across the country. Applications are being accepted through March 15, 2019 from anyone pursuing a post-secondary education and/or technical training.
Awards range from $2,500 to $10,000 and can be used toward tuition and fees, books, room and board and other school-related expenses. The scholarships have no age restrictions—whether applicants are recent high-school graduates, adults looking to make a career change, or educators seeking to advance their knowledge of the industry, people from all backgrounds may apply.
"Over the past 15 years, our scholarship and grant program has awarded more than $16 million to 6,000 undergraduate students and foodservice educators," said Rob Gifford, executive vice president of the NRAEF. "These much-needed funds are made possible by our many supporters and donors and continue to jumpstart the careers of the industry's future leaders."
 In 2018, 70 percent of the NRAEF's scholarships were awarded to women, 41 percent were awarded to minorities and 91 percent of recipients have experience working in the restaurant and foodservice industry.
Click here to apply and for more information.