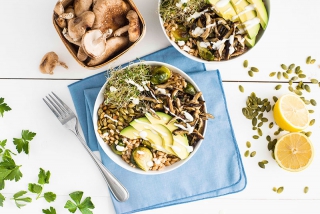 Mushrooms Make Bowls Better
30 January 2019
Popular bowls brimming with mushrooms feature added umami, nutrition and versatility.
By the Mushroom Council
In recent years, bowls have been gaining momentum on the culinary scene. Think about bowls and this comes to mind: beautiful, hearty grains or greens topped with colorful veggies, flavor-packed sauces and meats. Bowls are appearing on trend lists and menus across the country with no signs of slowing down. The ability to customize bowls allows chefs to add personalization, flare, culture and flavor to the dish. From Asian- and Mexican-inspired to vegan and meaty, bowls have something to offer everyone.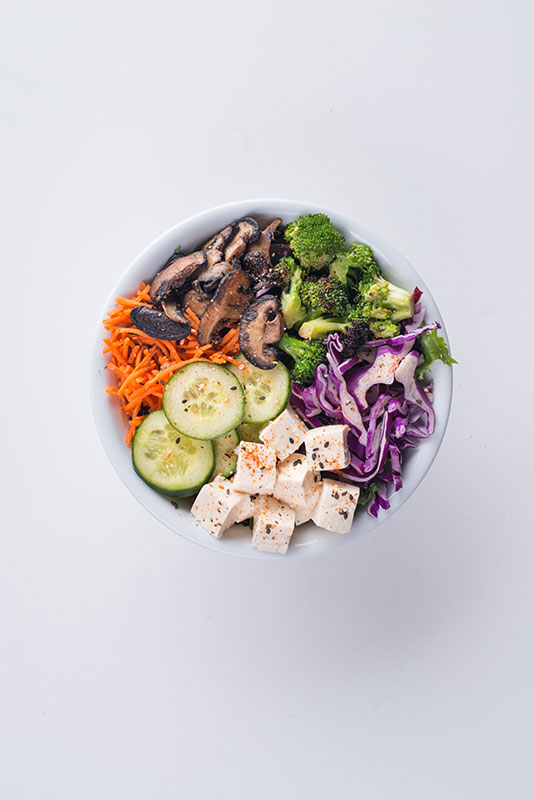 Bowls Appearing Nationwide
With more diners looking for convenience, chefs have accepted the challenge to provide speedy meal options. To cater to convenience, chefs are opening bowl-centric restaurants with a more casual feel across the nation.
Chef Troy Guard of Denver-based bubu, a fast-casual restaurant specializing in bowls, states, "Our guests are looking for a quick and healthy lunch that will leave them feeling energized throughout their busy day." The response to this fast-casual restaurant has been overwhelmingly positive. The Zen Bowl, which features rich shiitakes, is a favorite menu item.
Why Chefs are Choosing Bowls?
For Andrea Uyeda, owner of ediBOL in Los Angeles, her concept stemmed from her favorite way of eating as a child - out of a bowl filled with fresh ingredients, hand crafted flavors and various textures and temperatures. This passion has helped Uyeda refine her bowl builds, which have even been featured on Guy Fieri's "Diners, Drive-Ins and Dives."
Mushrooms an Integral Ingredient
Chefs are turning to mushrooms as an integral bowl ingredient. When it comes to ingredients, Uyeda explains, "Mushrooms are the star of many of my bowls because their umami makes them an irresistible addition. I love all mushrooms, but shiitakes are my variety of choice due to their meaty texture and flavor - appearing in four bowls on my menu at ediBOL, the BOLIicious rice bowl, vegiBOL, Ginger Sesame and Miso Peanut Ramen. I love using mushrooms and showcasing different techniques to boost their natural umami flavor."
Mushrooms Health Boost
People are in search of healthy menu items that provide a nutrient-boost. Mushrooms are an ingredient that will not only add flavor but will contribute extra vitamins and nutrients such vitamin B, vitamin D and selenium.
Very low in sodium: Mushrooms are naturally low in sodium but pack a big punch thanks to their natural umami flavor. This savory umami counterbalances saltiness and allows for less sodium to be used in recipes.
High vitamin D content: Did you know mushrooms are the only source of vitamin D in the produce aisle? Known as the "sunshine vitamin," vitamin D is a vitamin everyone could use a little more during the dark days of winter. All mushrooms naturally contain some vitamin D, but growers increase vitamin D levels by exposing them to ultra violet light during the growing process. Portabella, white, crimini and maitake have the highest vitamin D content.
Mushrooms are naturally gluten free: With consumers seeking more gluten-free and vegan options, mushrooms are the perfect solution. Mushrooms can be paired with other veggies, rice and a delicious gluten-free sauce for a hearty, gluten-free meal.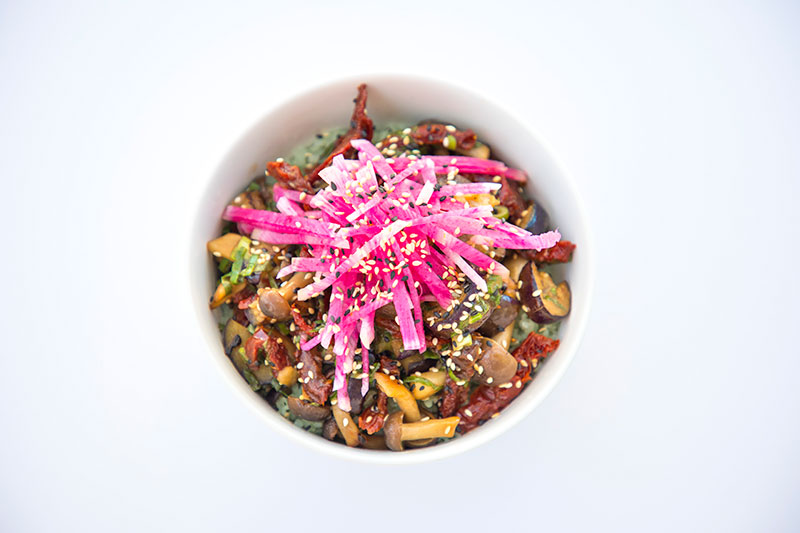 Very Versatile
Mushrooms are a welcomed ingredient in bowls due to their nutrition profile, flavor profile and versatility. This versatility has allowed chefs to be creative in their dishes.
At Sweetfin Poke, a Santa Monica-based eatery, Executive Chef Dakota Weiss explains he uses shimeji mushrooms in his bowls for their "subtle earthiness and a fun 'squeaky' texture." The rich flavor profile of these mushrooms pair beautifully alongside miso sesame shoyu sauce, Japanese eggplant, sundried tomato, shiso and market radish in the popular Miso Eggplant & Shimeji Mushroom Bowl.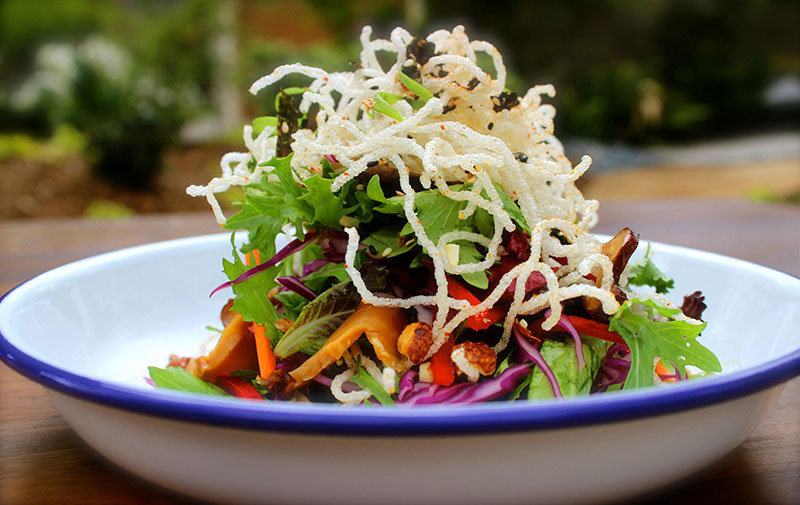 In comparison, Andrea Uyeda makes a sweet and savory Ginger Sesame Bowl with pickled, marinated mushrooms. "This pickling process makes the mushrooms irresistible to restaurant goers. We marinate them with sake, tamari, mirin, lemon and ginger," explains Uyeda. "It's hard to imagine, but it really is like eating candy."
These two bowls are great examples of how versatile mushrooms can be in the foodservice industry. From sautéed to pickled, these bowls highlight variety, cuisine type and cooking technique differences.
For culinary instructors and students alike, Uyeda states, "Mushrooms are extremely versatile. Think outside of the box when it comes to how you want to incorporate them into your bowl. Play with cooking techniques and paired ingredients to find the perfect combination."
Click here for more ideas on pairing various mushroom varieties with sauces, vegetables and meat.