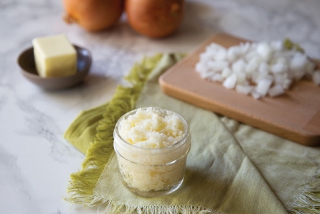 Onions Hacks for the Classroom
30 January 2019
These culinary instructors know how to shave time when cooking with onions.
By René Hardwick, National Onion Association
Onions have long been a staple for foodservice operators and are the most commonly menued vegetable, according to a recent Datassential Menu Trends™ study.
Onions are an essential ingredient in every kitchen, but their preparation can add time. The National Onion Association has assembled tricks from culinary instructors that can help take the time out of cooking with onions so educators can spend more time teaching applications.
KateLynn Dunning, culinary instructor at Platt College
"We professional chefs rely on onions," said KateLynn Dunning, culinary instructor at Platt College in Tulsa, Okla. "Onions are in our base for everything — stocks, sauces, soups. Everything I teach my students to sauté starts with minced onions and garlic."
Dunning has devised the ultimate onion hack with her Onion Butter recipe, which she uses to prepare for cooking classes that cannot afford the time it takes, for example, to sauté onions in butter for risottos or pilafs. "Sometimes, line cooks or students will not sauté the onions enough, making for crunchy onions in risottos," Dunning said. And, that's not good.
Dunning suggests prepping ahead of time by poaching onions in butter for 1-2 hours until translucent, allowing for a nice purée in the blender. Freeze for anytime cooking. Cooks can use 1- 2 tablespoons of the frozen mixture and use in a pot to sauté short grain rice (for risotto), long grain rice (for pilaf), lentils, quinoa, farro — any grain that typically is sautéed with onions and butter before adding a liquid, Dunning says. By poaching the onions ahead of time, it "cuts production time and it allows a more mellow onion flavor that is close to caramelization but delicate," Dunning says.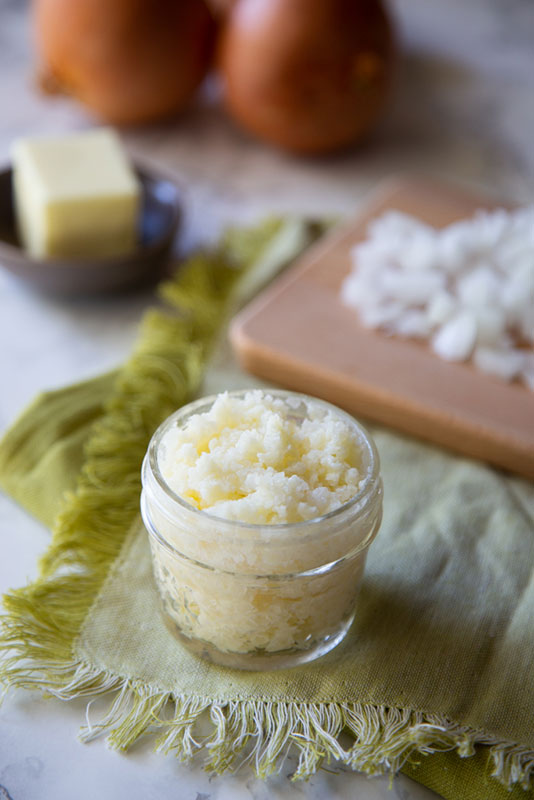 Onion Butter
2-3 cups minced or small diced onion
1 cup butter
1 teaspoon Kosher salt
Method
Melt butter on low heat. Add onions, salt, and turn down heat. Slowly poach onions for 1-2 hours until translucent and falling apart. Puree in blender until smooth. Freeze until needed.
Chef Dunning also likes to make up some sofrito, a Latin version of mirepoix or trinity. Sofrito is 50 percent onions, 25 percent peppers, and 25 percent tomatoes diced. It can be combined and held in a Tupperware dish or Ziplocs and added by the tablespoon for any salsas, Latin soups, enchilada sauces, mole, etc. The sofrito can be made ahead of time and stored up to a week in the refrigerator.
Dunning says that White Mirepoix is fun because it's so similar to mirepoix with an air of elitism. It is 25 percent onions, 25 percent leeks, 25 percent celery (or celery root), and 25 percent parsnips. It's meant to not add color to your stocks, sauces, soups, and bases if you want them to remain white and "delicate," she says. Like the sofrit, the white mirepoix will last up to a week in the refrigerator.
Linda Carucci, former dean of the California Culinary Academy
Former dean of the California Culinary Academy and author of the critically acclaimed "Cooking School Secrets for Real World Cooks" Linda Carucci offers two onion hacks that can make life easier.
"One of the things I have found that saves time and cleverly transforms the onion slice on a burger, for example, is the trick of microwaving the slices before I grill them," Carucci says.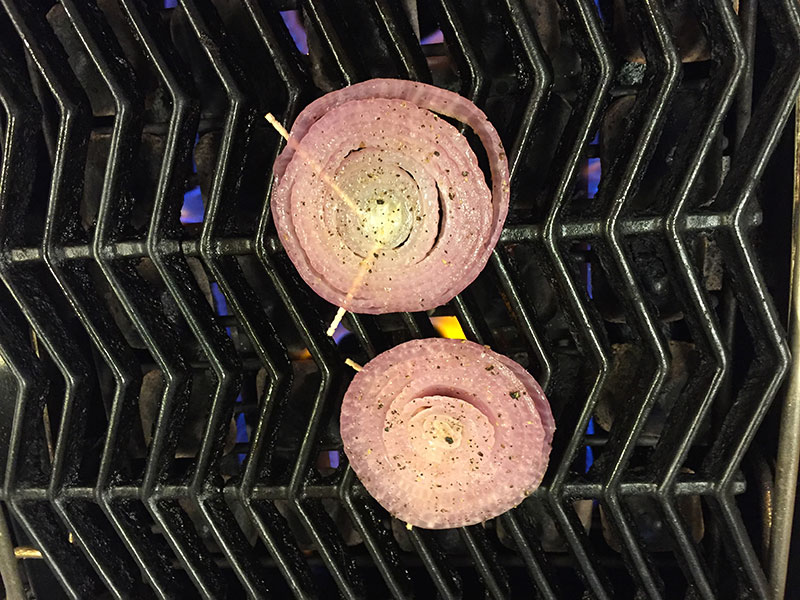 In her book, Carucci advises to skewer each slice of onion with two toothpicks (at 3 and 6 o'clock ) to hold the onion layers in place. Then she microwaves them. "Place the onions on a microwave-safe plate and microwave them on high for three minutes to cook partially. Or, steam on a steamer rack above boiling water for five minutes," she advises.
"Brush both sides of the onions with one tablespoon of olive oil and sprinkle lightly with salt and pepper. Then grill them, turning as necessary until they are soft and golden brown on both sides, about 10 minutes total."
Paul Kennedy, Hospitality Management Instructor at Mid-State Technical College
Paul Kennedy, Hospitality Management Instructor from Mid-State Technical College in Wisconsin Rapids, Wis., suggests making a quick garnish for burgers or chicken sandwiches by dusting onions rings or slivers in Ranch dressing mix and lightly frying them.
Also, instead of purchasing commercial "browning" sauces, Kennedy likes to sear onions in a hot cast iron pan until they are a deep brown. When cooled, he will puree them in a food processor with a little bit of water to make a dark liquid out of them. When he needs to brown something a little more, "I can add this to the product, without introducing any chemicals into the finished product," he says. 
Additional onion tips from the National Onion Association
Refrigerate onions for 30 minutes before cutting to prevent tearing.
Select firm onions with short, dry necks and dry, papery skins.
Store onions in a cool, dry ventilated area – not in a cooler as lack of air movement reduces storage life.
Store chopped or sliced onions in a sealed container in cooler for up to 7 days.
For more onion recipes and tips, visit www.onions-usa.org.