Bowls are Brimming with International Flavors
28 April 2018
The culinary trend featuring bows keeps booming with these versatile dishes appearing in all day parts from international to traditional cuisine.
By Kikkoman USA
Menu penetration of bowls has risen steadily in recent years. More than 31 percent of restaurants surveyed now serve bowls, according to a Datassential MenuTrends survey in 2017. If you break down the trend, it's pretty simple: base, protein, sauce, garnishes, spices, plus final toppings — and you've got a meal for breakfast, lunch or dinner. Bowls are also a perfect way to be creative in the kitchen and incorporate a variety of global cuisines.
Poke Bowls
As popular regional fast casual chains serving poke bowls expand, this Hawaiian staple is on track to become a nation-wide phenomenon. Pronounced "po-KAY," poke is a traditional Hawaiian dish that translated means "chunk," after the cubes of fish that are its signature.
To create a flavorful poke bowl, start with a base – most commonly this will be warm rice. Some restaurants will offer alternative options such as greens or zucchini noodles.
The star of the bowls is diced raw ahi tuna, hamachi, salmon or other sashimi-grade fish, or in some cases, chefs will use tofu or cooked shrimp. The protein is then tossed in umami-rich poke sauce, which can be created using soy sauce, sesame oil and seasonings. Another option is to utilize a ready-to-use sauce, such as Kikkoman Preservative-Free Poke Sauce.
The bowl is completed with a variety of mix-ins and toppings including green onions, avocado, chopped macadamia nuts, seaweed, chili flakes, crispy onion, wasabi and so much more.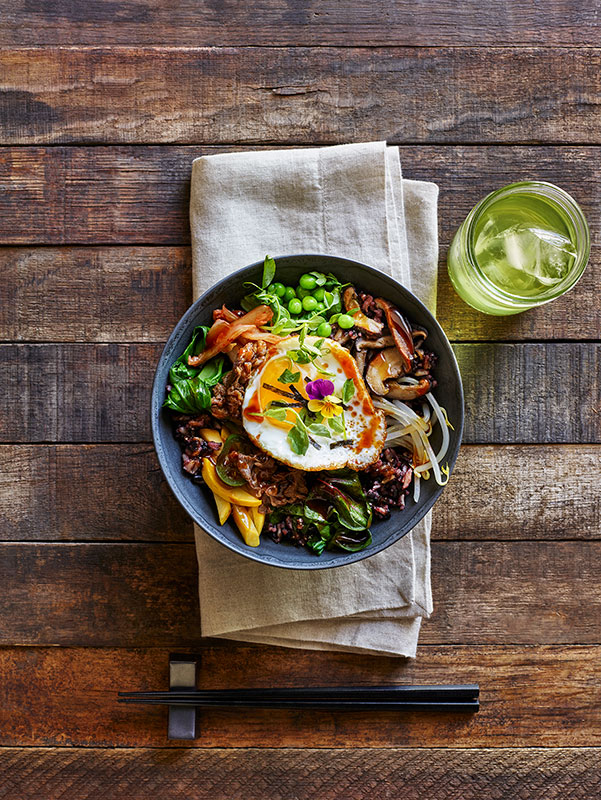 Bibimbap Bowls
Korean cuisine is quickly gaining popularity in the U.S. and bibimbap is growing on menus as the U.S. is introduced to this classic rice bowl. Directly translating to "mixed-up rice," bibimbap is made with rice topped with seasonal vegetables and traditionally served in a hot stone bowl or dolsot.
Chef/owner Esther Choi of Mŏkbar in Brooklyn, NY, makes a stunning bibimbap using plenty of color, flavor and texture. Check out this video to see her elevated spin on this traditional dish.
Starting with a base of purple rice (a blend of black and white rice) Choi adds seasonal vegetables, which might include zucchini, peas, or bean sprouts, and then adds house-made kimchi for extra zing. Her signature touch is a teriyaki marinade infused with aromatic scallions, jalapeño, and garlic that takes the thinly-sliced ribeye centerpiece to new heights. A fried egg and a beurre blanc-style teriyaki drizzle finishes the dish.
Breakfast and Brunch
The growing trends of bowls and global flavors are turning into a huge opportunity for internationally inspired breakfast dishes. In fact, Global-Inspired Breakfast Bowls has been named the number one breakfast trend to over-take avocado toast.
Chef Andrew Hunter, corporate executive chef for Kikkoman Sales USA, Inc. recently created an Asian Breakfast Bowl as menu inspiration. The recipe boasts big flavor with roasted pineapple in a golden soy glaze, a pinwheel egg crêpe flavored with mirin and soy, and a soft-fried tempura egg served over a blend of crispy sushi rice, quinoa, farro and wheat berries.
Ramen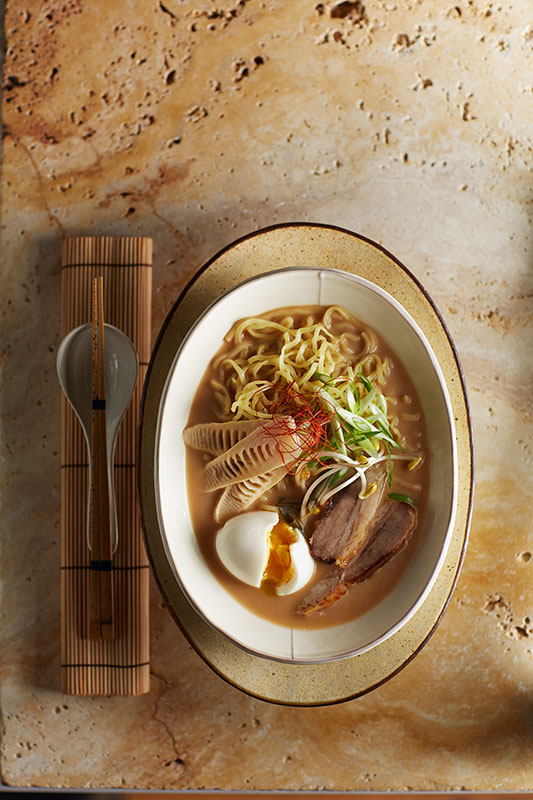 A ramen bowl traditionally starts with broth and tare ("ta-reh"), which is a concentrated base that flavors the broth. Three main varieties of tare: shoyu (soy sauce–based), miso (fermented bean paste) or tonkotsu (pork bone broth). For a speed-scratch recipe, a pre-made ramen soup mix can be used so the focus can be placed on the add-ons.
Be inspired to make it your own! Consider char siu pork (Chinese BBQ pork), roasted pork belly, soy sauce eggs, kamaboko (fish cake), seaweed (nori or wakame), bamboo shoots, sweet corn, bean sprouts, scallions, pickled ginger and more.
In fact, it was ramen bowls that first gave Chef Esther Choi her start, fusing a familiar Japanese concept and her own broth recipe featuring Korean ingredients like kimchi, giant anchovies, braised pork belly and other toppings. Spicy garlic paste, gochujang and Kikkoman Soy Sauce provide depth and a craveable hint of umami. Her popular Kimchi Ramen is inspired by Jjigae, a classic Korean stew made with pulled chicken and roasted chicken ginger broth, cucumber and garlic chive.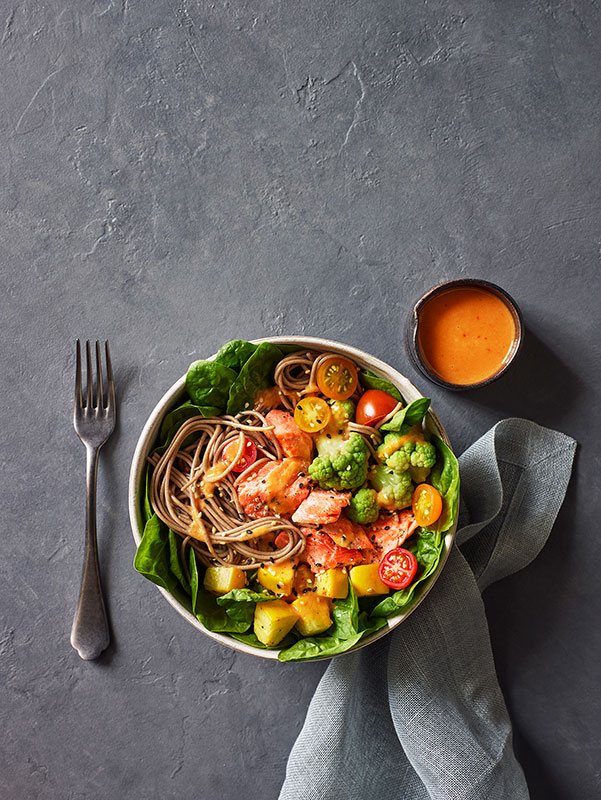 Create Your Own Specialty
While sticking to the fundamental techniques of ramen bowls, chefs across the U.S. are using local ingredients and regional food trends to make ramen bowls their own. Think brisket ramen in Texas, green chili ramen in Denver or mofongo ramen in Miami. In addition to experimenting with traditional dishes, bowls also give you an opportunity to blend different cuisines, create flavor mash-ups or put a healthy twist on a popular menu item.
Erica Holland Toll is the chef at The Flavor Lab of Stanford University where she has created a Wild Salmon and Soba Noodle bowl.
"This recipe gives us the opportunity to showcase the wild salmon we use," Toll says. "The bright, zesty flavors of the kimchi vinaigrette paired with earthy soba noodles and crunchy vegetables really delivers a delicious bowl."
This unique blend of flavors is achieved using Kikkoman Gluten-Free Tamari Soy Sauce, which is stronger in taste and aroma, which provides depth and balance to savory foods.
For more information and menu inspiration, visit www.KikkomanUSA.com/foodservice.
Photos courtesy of Kikkoman Sales USA.