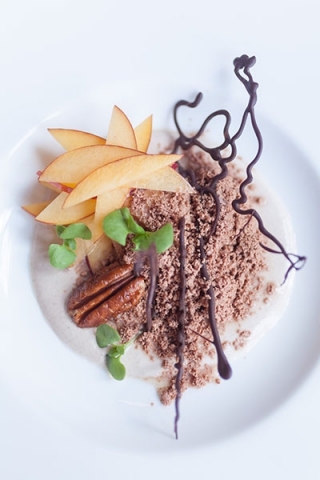 Redefining Desserts with Simple Pleasures
Desserts without unnecessary fats and sugar take front and center in the Three Pleasures campaign.
By Lisa Parrish, GMC Editor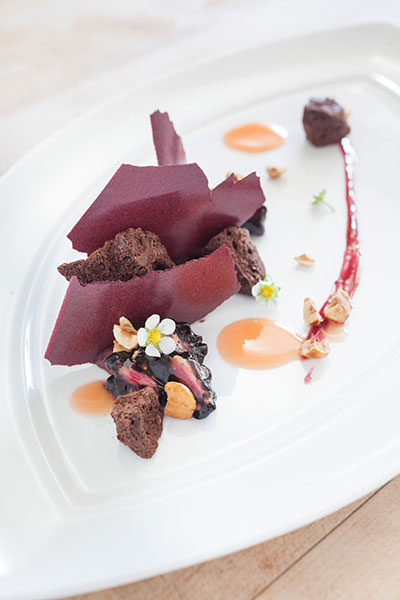 Picture yourself at the end of a scrumptious restaurant meal. You have a little room left for a sweet treat. But, upon glancing at the dessert menu you see heavy, calorie-laden, over-the-top options. (Think chocolate lava cake, ice cream with caramel sauce over a brownie, or a big-as-a-dinner plate slice of cheesecake.) But wait, could you be happy with just three small pleasures – dark chocolate, nuts and fruit?

According to Sophie Egan of The Culinary Institute of America (CIA), chances are you can. On a whim you ask the chef to whip up a surprise treat with just these ingredients. Chances are good that you will receive a thoughtfully simple treat that wonderfully satisfies.

Egan and her colleagues at the CIA have worked with Dr. Walter Willett, former chairman of the department of nutrition at Harvard T.H. Chan School of Public Health, through their joint initiative Menus of Change. Part of that program—which advances the business of healthy, sustainable, delicious food choices—is encouraging chefs to reimagine desserts that are more health conscious while still delicious. The idea is to reduce dessert's traditional overreliance on added sugar, refined grains, and unhealthy fat, not to mention heaping portions.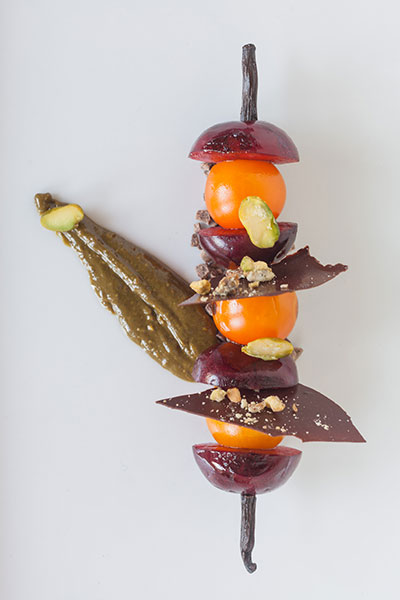 Dr. Willett coined the "Three Pleasures" phrase, giving a nod to the ingredients' simplicity and satisfaction. He suggests combining high-quality dark chocolate, chalk full of flavanols; nuts, which are rich in heart-healthy monounsaturated fats and sometimes polyunsaturated fats; and fruit, which contains important nutrients, including fiber, vitamins, and minerals.

"Keeping things simple forces culinary professionals to up their game," said Egan, who holds the CIA post of director of health and sustainability leadership and also serves as editorial director for the Strategic Initiatives Group. "It's a call to action among chefs to be creative." She suggested that there is plenty of room for imagination within the Three Pleasures. For instance, use a smoked nut to add flavor, or choose a tart berry, such as a gooseberry, for an unexpected bite, while choosing dark chocolate with a high percentage of cocoa to balance out the sweetness of the fruit.

"In moderation, there is room in the diet for small portions of sweets. We just need to redefine dessert to be more supportive of health," Egan commented. "This dessert framework is not about deprivation or taking things out. It's about reimagining the dessert experience by breaking out of the traditional calorie bomb of over-the-top decadence to instead find inventive, flavorful ways to cap off a meal with a satisfying bite or two."

Dr. Willett decided to experiment with his idea of the Three Pleasures by taking his request into the public. When Dr. Willett is out dining and peruses the dessert menu to find a bevy of heavy dessert options, he asks the chef to make him an off-menu dessert of chocolate, nuts and fruit. He has been pleasantly surprised with the results and began taking pictures of the creative dishes he received.

He wasn't the only person to find the dessert challenge interesting. Dr. Willett was featured in National Geographic's The Plate. The story highlighted him asking a chef for a Three Pleasures dessert with outstanding results. From there the idea has caught on and now people regularly send Dr. Willett pictures of their own surprise requests. Harvard's Nutrition Source website even offers a downloadable "business card" so any diner can give his exercise a try, handing the printed card to their server at the end of a meal.

The Three Pleasures initiative is congruous with the Menu of Change initiative, which is also a collaboration between the CIA's Strategic Initiatives Group and Harvard T.H. Chan School of Public Health. Dr. Willett is the chair of the Menus of Change Scientific and Technical Advisory Council. Egan describes the Menus of Change platform as an effort to provide evidence-based principles of healthy and sustainable menus to business and culinary foodservice professionals.

"We always lead with the message of flavor, because if it's not delicious then no one is going to eat it," said Egan. "Menus of Change targets menu decision makers in large-scale foodservice operations. These organizations are feeding thousands and even millions of people each day. So if they make even a small menu change, for instance reducing sodium, portion size, or added sugar in a dessert, there can be an enormous impact on public health."

---
Photo credit: CIA/Phil Mansfield

 Photo Captions:
Cover photo: Chocolate-Banana Panna Cotta
1) From CIA Instructor Zachary Miller: Frozen chocolate tea snow made with Earl Grey tea and chocolate. The sauce on the bottom of the plate is pecan puree. Chocolate sticks, and a garnish of micro basil leaves. Ingredients: summer peaches, chocolate, pecans, Earl Grey tea.
2) From CIA Associate Professor Todd Knaster: Dehydrated blackberry puree (for the blackberry plaques), aerated chocolate and hazelnut puree, peach puree, fresh blackberries, blackberry puree with ginger, and strawberry blossoms. Ingredients: blackberries, ginger, peaches, hazelnuts, chocolate.
3) From CIA Associate Professor Stephane Weber: Vanilla bean cherries and gold cherry tomato kebab, pistachio-studded chocolate plaques, chocolate crumbs, and pistachio puree. (The vanilla bean serves as the skewer for the kebab.) Ingredients: cherries, gold cherry tomatoes, chocolate, and pistachios.