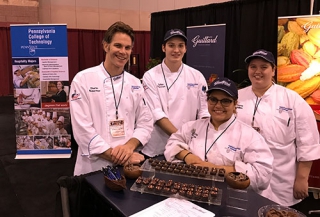 Instructor Charles Niedermyer Earns Accolades from Industry Partners to a Professional Magazine
29 September 2017
Award-wining pastry chef Charles Niedermyer connects his well-trained students with potential employers at foodservice events around the country via his authentic partnerships.
By Lisa Parrish, GMC Editor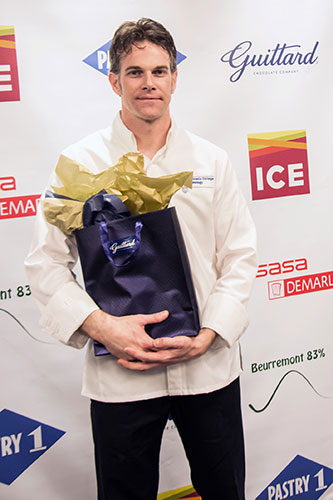 Pennsylvania College of Technology Instructor Chef Charles Niedermyer II was surprised and taken aback when the publisher of Dessert Professional Magazine notified him of his placement in 2017 Top 10 Pastry Chefs in America.

"It's kind of surreal and a dream come true," Chef Niedermyer said of the honor. "When I was in school I dreamed of working in the city and winning awards - everyone dreams that. But, you start to work and put your head down (and the dream fades). Then someone taps you on the shoulder, you look up and you've won an award. And you think, 'How did I get on this list?'" He continued, "I was quite humbled."

Dessert Professional Magazine Publisher Matthew Stevens and Editor Tish Boyle selected honorees based on their talent, creativity, contributions to the industry and dedication to creating high-quality confections.

"Our industry is grateful to talented, dedicated, chef instructors like Charles Niedermyer," Stevens said. "In addition to teaching and mentoring the next generations of dessert professionals, Charles has risen to the position of department head for his vision and success in providing his students with real-world experience to excel in our constantly evolving industry."

Chef Niedermyer believes in continuously striving to keep abreast of the foodservice industry's needs through strong partnerships. "The industry doesn't stop. The trends don't stop," he said. "The opportunities are out there and I want to make that all available to my students."

Chef Niedermyer travels with his students to between six and eight events a year. Penn College students are frequently requested by various industry exhibitors to assist with providing seminars and participate in hands-on demonstrations. "I enjoy taking students to trade shows and giving them an opportunity to walk around and experience the show – to really be a part of our industry. They get to see firsthand what it is and what it can be," Chef Niedermyer said.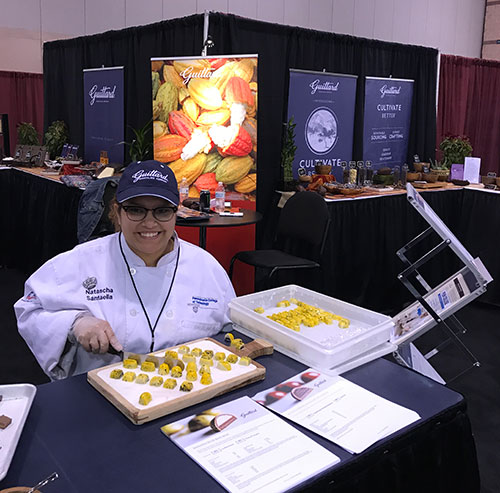 His students do more than present and work in the booth at the trade shows. They arrive a day early so they are also a part of the set up and leave late to assist in tearing down. This provides another valuable service to exhibitors and teaches students about physical demands.
Chef Niedermyer describes the process of connecting culinary industry professionals and Penn College students as "organically creating relationships." He said, "Meeting with professionals at conventions allows my students to shake hands and look people in the eyes." His students learn first-hand what skills are required in their chosen profession while Chef Niedermyer discovers the industry's future needs. It's a win-win situation for all involved. "My students are presenting their business cards and getting job offers at these events. They are selling not only the exhibitor's product but the college as well. I hear great things about my students and receive requests for more student participation during future events," he added.
An example of one such industry partnership that has grown is Chef Niedermyer's relationship with the Guittard Chocolate Company. "It started with a visit to the sales rep during a trade show. I gave her my business card and extended an invitation for my students to assist during a future event," he said. "Then one day I received a phone call - the sales rep needed more manpower to execute a seminar during a show. Everything has grown from there and now there are up to six students who work the floor for Guittard."
That sales rep was Laura Tornichio, Guittard Chocolate manager of the northeast territory sales and culinary school programming and partnerships. She said, "Charles and I have worked collaboratively on various events ranging from tastings and pairings on campus to a full schedule of production demos at trade shows."
When creating a program, Tornichio's goal is to inspire and educate industry professionals as well as the Penn College students who assist the Guittard team. She has always been impressed with the students' work ethic and advanced skills. "The students are respectful and professional. They ask intelligent questions and take pride in doing the work at hand. When that work is done, they ask for more," she commented.
Tornichio continued, "Between the vetting process employed by Charles to select the students and the time that my team spends with them, they make both Penn College and Guittard look great!"
Chef Niedermyer is an alumnus of Penn College, where he has taught for the past 13 years.
Teaching is a family tradition for Chef Niedermyer, as his father was a pastor and instructed every Sunday from the pulpit. "I grew up watching him teach," he said. Another connection that culinary instruction has to his childhood is how religion teaches about caring for others. "To me, teaching is about looking out for neighbors, whether it's someone who lives beside you, a co-worker or the person working on the line with you."
Another aspect of teaching that Chef Niedermyer enjoys is making connections with students in the classroom. "I love when I give a lecture or lab, and the students' eyes light up and they smile. They get excited and I think to myself, 'I'm onto something.'"
In addition to teaching at Penn College, Chef Niedermyer also serves as the hospitality department head. In that role, he relishes the challenge of fitting culinary education elements together in a constantly changing environment. For instance, his responsibilities include creating a master schedule that fulfills multiple demands for lab space and lectures for a constantly changing number of students, who are working toward a career where the required skills are quickly evolving and changing. "I'm a perfectionist. I love the challenge of it all and I never get bored."

Teaching culinary classes includes imparting to students the real-world challenges and responsibilities that come with being called, "chef." It's important to Chef Niedermyer that his students and graduates understand the hospitality industry is physically demanding and requires long hours each day as well as weekend and holiday workdays.
One way he ensures that the students learn these lessons is through class scheduling. "We teach an upper level cake class on Saturdays. I say to my students that they are going to work every Saturday for the next 20 years and they need to get used to it now." He continued, "We run our program from 6 a.m. to 10 p.m. Monday through Saturday. If a student has a problem with the schedule then they may want to reconsider their career."

Striking a balance for students includes preparing them for their culinary career and not burning them out too early. This is a goal for Chef Niedermyer and his program. "Students need to realize this program is not about convenience. We want to provide them with realistic expectations. And, from the rave reviews we've received from our alumni and industry partners, our students are well-prepared for their future challenges," he said.

---
Photos courtesy of Guittard Chocolate