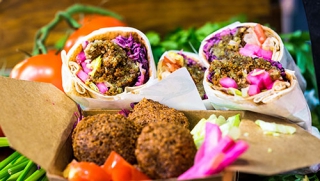 Global Influences Intrigue Consumers Curiosity
Global spices, sauces, and condiments accompany main menu items to boost flavor while ethnic entrée offerings attract consumers.
By Nestle Professional
There are a wide variety of on-trend flavors that chefs can use to revitalize their dishes. Global spices, sauces and condiments accompany main menu items to boost flavor while ethnic entrée offerings attract consumers across all generations. Beverage menus can also be reinvented to include drinks from all over the world and beverages can be paired with main dishes for a globally-inspired combo. Staple local cuisines across the United States can trace meals back to ethnic influences and on-trend ingredients today have the potential to impact these well-known regional flavors.
Fueled by younger consumers, on-trend cuisines are increasingly more global. The opportunity is there for chefs to innovate with diverse ingredients incorporated into familiar dishes.
Spicy, fermented, sweet – the list of flavors consumers seek expands daily. By balancing ingredients people actively request with ingredients that have a high interest rating but are unusual, chefs can spark interest and convince diners to take a bite.
Boost Dishes with a Dash of Spice
Spices, sauces, and condiments improve flavor profiles. A simple way to boost flavor, provide texture, or balance color on a given dish is to add spices, sauces, and even condiments to elevate the dish. Diners consider a Japanese sauce like ponzu to be more unique than marinara or salted caramel. And consumers believe truffle oil is more interesting than tzatziki sauce or rosemary. As ingredients move along the Menu Adoption Cycle, perceived star power diminishes.
Spices, sauces, and condiments can enhance dishes by bringing out different flavor profiles of vegetables, meats, fruits, and other ingredients.
Fermented – try Miso, a fermented soybean paste used in Asian cuisines.
Warm – try Cinnamon, made from the inner bark of trees, cinnamon has been used for thousands of years. It can be found in global spice mixes such as garam masala, jerk spice, and Chinese five spice.
Sweet - try Ganache, a simple and versatile cream and chocolate sauce. Since chocolate is consumers' favorite flavor for almost all types of desserts, ganache has the potential to be a hit among consumers.
Spicy- try Gochujang, a Korean condiment that contains red chili, rice, soybeans, and salt.
Tangy – try Mignonette, a light sauce served with seafood, typically traced back to French cuisine.
Fatty - try Coconut Oil, which is used to add a lavish component to Asian dishes and beyond. Fat is now back on trend, adding richness to foods and even beverages
Main Ingredient Additions with New Bold Flavors
After establishing which new spice combinations to use, which sauces to pour, and what condiments to offer, it's time to consider the main dish. One way to capture consumers' attention is to be bold by using innovative ingredients.
Ethnic food is on-trend and one of the many drivers for diners. Expanding dishes with more globally-driven flavors or tweaking entrée and dessert choices appeals deeply to consumers. Global inspiration is not just for main dishes, global flavors span dayparts and meal parts.
Trail Blazer Main Course Items
Challah (origin Israel) – 34 percent of consumers want to try it
Challah is a thick, doughy bread that can stand up to long cooking times and lots of toppings. A great go-to bread for French toast or even a viable option for croutons.
Tonkatsu (origin Japan) – 36 percent of consumers want to try it
Think of tonkatsu as a close relative of pork schnitzel. It's approachable enough for consumers to want to try it with rice or alongside wasabi mashed potatoes.
Falafel (origin The Middle East) – 43 percent of consumers want to try it
Falafel can be used as an appetizer, side dish, or main dish and can be infused with all different spices including za'atar and harissa.
Khachapuri (origin The Republic of Georgia) – 45 percent of consumers want to try it
Think of khachapuri as a cousin to pizza. This cheesy, crusty bread is suitable for all dayparts and topping it with an egg makes it an out-of-the-box breakfast idea.
South of the Border
Consumers are already oriented toward Mexican dishes. Chefs can add more Asian flavors by considering Asian/Mexican fusions. This taste finds its home in Baja cuisine, which infuses Asian and Mediterranean flavors into Mexican dishes, and originated in Tijuana.
The variety of ingredients available to operators – gochujang, chorizo, galangal, tofu, and more – offer unlimited ways to update dishes to suit globally-minded consumers. The distinctive flavors that both Asian and Mexican cuisines offer have the potential to expand consumers' palates.
Along the Pacific
Bowls are gaining popularity and a way to please even picky customers by allowing them to make their own. For an Asian twist, stir fry allows cooks to incorporate Asian ingredients into dishes. In fact, 62 percent of all consumers are interested in make-your-own stir-fry concepts.
Click here to download the full report.

Photos courtesy of Nestle Professional.