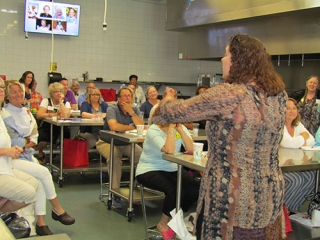 CAFÉ Conference Delivered Top Educational Experience to Instructors
Myrtle Beach extended its hospitality and talented local chefs to CAFÉ conference goers learning about new foodservice trends and educational best practices.
By Lisa Parrish, GMC Editor
When some instructors were beginning their summer breaks, more than 100 educational professionals delayed their vacation plans to attend the annual CAFÉ Leadership Conference held in June at Myrtle Beach. There the instructors were treated to informative educational sessions, delicious food prepared by talented chefs, and an opportunity to share ideas and practices with their peers.
The event featured a keynote address by Adam Brumberg, Deputy Director of the Food and Brand Lab at Cornell University, explaining why people choose the food they eat. He illustrated how the brain can influence perceived tastes when he presented a video of a study performed in Cornell's lab. Students were given yogurt mixed with chocolate syrup and told it was strawberry yogurt scooped out of a strawberry yogurt container. All the students believed they tasted strawberry, when in fact there wasn't any in the yogurt. His presentation also focused on choosing words carefully to describe food items and how placement on a buffet is key to consumption.
Master classes featured three hours of hands-on kitchen work where participants learned: how to make POKE Bowl with fresh seafood; create delicious chocolate desserts and pastries; and make unique, flavorful pizzas with various cheese options from morel and leek cheese to aged provolone.
Conference goers perused Info Fair tables with items ranging from chocolate – Guittard featured tastings of chocolate with various cacao contents – to the latest in knife and kitchen utensils from Mercer Culinary, to books on culinary math and nutrition from ATP. Additionally, the Idaho Potato Commission, KP Education Systems, National Mango Board and the National Watermelon Board prepared kitchen presentations for all attendees on the latest trends in their industries.
A conference highlight occurred with the announcement of the Sysco Educator of the Year award, Idaho Potato Commission's Innovation award, Kendall College Green Award, and the National Pork Board Competition winner. Click here for a complete list of award winners and a description of their successful applications.
The event was rounded out by a day of more than 10 educational professionals describing their own success stories in the classroom. For instance, Jackson Lamb, Metropolitan State University of Denver, described how an instructor could convert classes to the online environment even when the classes seem only teachable in a brick and mortar situation. Another presentation by Nadia Minniti, Fayetteville Technical Community College, illustrated how a farm-to-table curriculum could help not only the culinary program but the planet as well.
Attendees of the conference also received 12 ACF continuing education hours. An announcement of the date and location of the 14th annual CAFÉ Leadership Conference is expected next month.