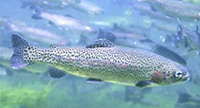 A free classroom offer to teach students why menuing domestically raised fish and seafood is an important way to keep both customers and the bottom line happy.
Courtesy of the National Aquaculture Association
Restaurant goers love fish and shellfish! More than two-thirds of all seafood consumption in the United States takes place outside the home. U.S. farm-raised fish and shellfish are consistent in price, quality and availability, and the predictable supply helps in menu planning and cost projection. What's more, many U.S. farm-raised fish and shellfish are available in portion-controlled, individually quick-frozen forms that eliminate waste and ensure ease of preparation.
Buying locally farmed fish and shellfish also helps to ensure the freshness of the product and reduces the carbon footprint. This local, green connection helps to tell a story on the menu. Many restaurants purchase exclusively from one farm and use this connection as a marketing hook.