By Kim Reddin, courtesy of the National Onion Association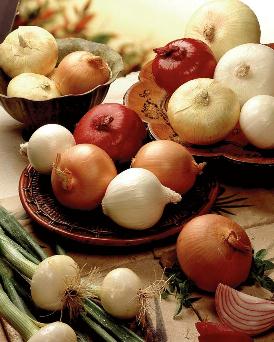 Onions provide color and texture to a dish, but their flavor is what really makes them irresistible and virtually irreplaceable in the kitchen. From raw to caramelized, the flavor of an onion has many layers.
Onion Production
Commercially grown in 20 states from coast to coast, onions are the third-largest fresh-vegetable industry in the United States; Idaho-Eastern Oregon, Washington and California are the leading production areas. The National Onion Association estimates that fewer than 1,000 U.S. farmers plant more than 142,000 acres of onions each year. Americans consume nearly 20 pounds of onions per capita annually.
Flavor Factors
Onion flavor is determined by many factors including genetics, planting location, soil and temperature. While compounds such as sugars and organic acids can contribute to what people taste, a special class of biologically active organosulfur compounds is what actually give onions their distinctive flavor and aroma.