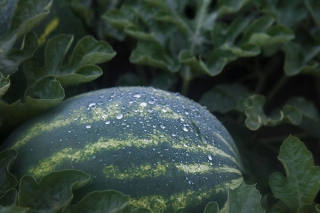 Watermelon: Vegetable in Disguise or Misunderstood Fruit?
14 August 2018
Fifth generation watermelon farmer, entrepreneur and agribusiness student Jessie Wiggins knows all things watermelon.
By Thomas Smith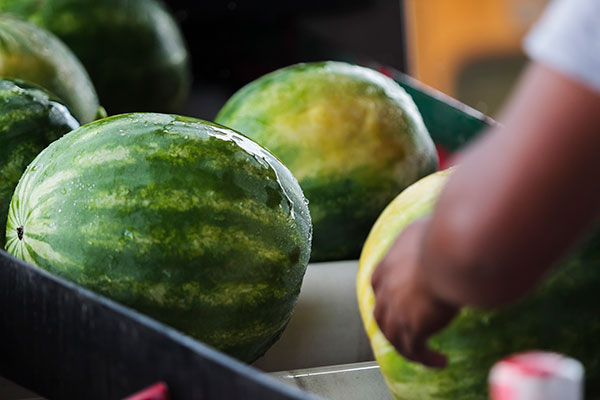 The sweet taste of fresh juicy watermelon is a popular antidote to the grueling summer heat. Despite its sweet flavor and summertime popularity, the watermelon is more closely related to gourds like squash and pumpkin, which are harvested in the fall. This raises the question: Is watermelon a fruit or a vegetable? The answer may not be as straightforward as it appears.
Jesse Wiggins is a fifth generation watermelon farmer from Center, Texas. He is also an entrepreneur and a prominent member of his community, acting as a member of the executive committee of the National Watermelon Association, vice president of the Texas Watermelon Association, and president of the National Watermelon Promotion Board. Wiggins said he is the youngest president in the organization's history.
The Wiggins farmland spans around 500 acres between two locations in eastern Texas and produces about 30 million pounds of watermelon annually. "It's me, my brother, my father, and my mom, so we have a good time," Wiggins said laughing.
In addition to his farming involvement, Wiggins is also a full-time student. As an agribusiness student and a leader amongst watermelon growers, Wiggins said watermelons can be considered either a fruit or a vegetable. "Honestly, it can be both," he said, "because it's sweet everybody wants to think of it as a fruit. But scientifically, I'm pretty sure it's a vegetable."
According to the National Watermelon Promotion Board, watermelon can be considered a fruit because of its smooth exterior, sweet interior, and growth on a vine. In this regard, watermelon shares botanical similarities with peppers, tomatoes and pumpkins. However, watermelon can also be considered a vegetable because it is planted from seeds or seedlings and grown using vegetable food production systems.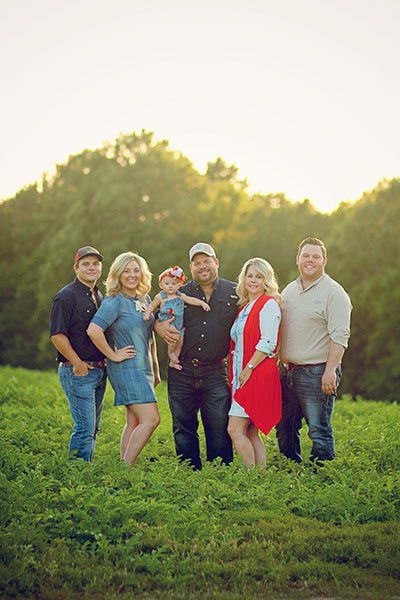 Wiggins said his family has been farming the same land since the time of his great great grandfather, although it was his grandfather who opened a brokerage to increase watermelon distribution. Wiggins recently separated the family farm from the company his grandfather started. Because he is now in charge of sales and marketing, the day-to-day farming and harvesting is left to other members of the Wiggins family.
"My part of it is answering phone calls at 6 o'clock in the morning whenever Florida wakes up," Wiggins said, "either telling them we have fruit or we don't have any fruit depending on the day of the week and where we're harvesting."
Social media is another part of Wiggins' job. He said the Wiggins' farm receives both positive and negative feedback online, both of which are helpful. The president likes to hear what customers think of his product, but there are also some factors beyond what the grower can control. Wiggins said every watermelon is washed, ripe, and ready to eat when it leaves the farm.
Wiggins has been involved in the watermelon community for as long as he can remember, attending conventions, helping provide watermelon for a five-kilometer race, and supporting Center's local watermelon festival. He said his outspoken personality and presence at conventions have helped him become a prominent member of the watermelon promotion community. Although older generations often judge him for his age, the young entrepreneur said it helps that he comes from a melon-growing background.
The Wiggins family grows seedless Jamboree melons and Fascinations, a watermelon with seeds. According to the Watermelon Promotion Board, seedless watermelons are the result of cross-breeding and therefore are not genetically modified. Seedless melons do contain small white seeds, although the agribusiness student said they may mature into larger black seeds under certain conditions, such as stress.
Every part of a watermelon is edible, including the seeds. This also includes the rind, which can be stir-fried or pickled to bring out the best of its vegetable-like flavor.
Fascination and Jamboree are among the sweetest watermelons on the market. The farmer suggested chefs might use this variety when creating a dish with good contrast between sweet and salty flavors. He added that he prefers watermelon's sweet flavor by itself and in watermelon-based drinks.
Although the Wiggins family is based in Texas, watermelon is grown in more than 30 states and is available year-round in hundreds of varieties. High density, a yellow underside, and echoing when tapped on are tell-tale signs of a ripe watermelon.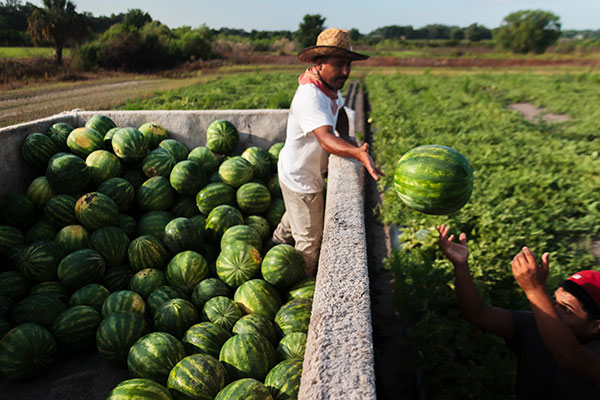 Producing the best watermelons requires great care and intricate land preparation. In Texas, wind breakers and drip tape for irrigation are typically installed in late summer, Wiggins said. After staying in a greenhouse for at least the first month of their life, watermelons are planted in the ground in early spring.
"Texas fruit has always been good. It's going to always be good," Wiggins said. "I know some of my guys up in New York love it when the Texas watermelons get kicked off (harvested). Everybody just likes Texas fruit."
So, maybe watermelon is a fruit, at least in Texas.