Guest Speaker: Where Retirement Living Meets Five-Star Dining
02 December 2012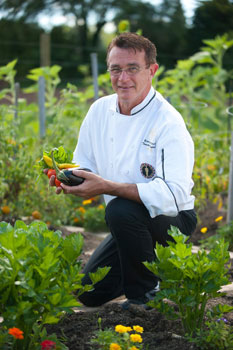 After years of working hard and plenty of time spent "doing life," retirees have earned their break. Chefs at Beacon Hill at Eastgate in Grand Rapids, Mich., uniquely meld their talents with the culinary wonders of the region and the desires of residents.
By Timothy England, CEC, AAC
It been said time and again that life begins at retirement. For many this means a time for travel, investing in family, perhaps even taking up a new hobby, or reengaging in an old one. It may mean new experiences with your bride or a time to dance with your groom again. Perhaps it is a friendship that needs nurturing or a time for your soul to rejuvenate with regular exercise.
Retirement has long since passed the time of boring days at home with little or nothing to do; menial tasks that fill the time but do little to engage the mind. With all the possibilities for adventure and new discoveries, retirees these days are known to be setting out on a new life that takes them far beyond the routine of their long, hard working years and into a world of fresh starts and checking things off that lifelong "bucket list."
This stage of new beginnings is not limited simply to activities. In addition to filling their days with new friends and hobbies, residents at Beacon Hill at Eastgate in Grand Rapids, Mich., which opened in November 2010, are finding that this sense of adventure is also proving true of their culinary experiences. With time on their hands and plenty left undone in life, they readily sit back and let others worry about what to eat.
And, leaving these details to the experts is wisdom that serves them well.
Located near the shore of Lake Michigan, an area of the country known for the unique blending of urban culinary creations and local farm-fresh produce, management of the senior-living community wasted no time planning to take advantage of this perfect combination as they began designing more than just a dining room, and instead, a dining experience. With an on-site garden and close relationships with area farmers, my team and I work our magic to create menus that change weekly to take full advantage of the freshest seasonal ingredients. And diners delight! Whether in the mood for homestyle comfort food, craving a fresh catch from the lake or maybe longing for a juicy steak with a blackberry merlot sauce, residents have a plethora of diversity and opportunity to explore local fare at its finest.
So, as residents take an afternoon swim class or enjoying time in the spa, the culinary staff is busily preparing dining halls for the culinary adventure to come.
In addition to menu choices that are bound to stimulate the taste buds well before dinner is served, the dining staff intentionally sought to engage guests with all of their senses. As with all things at Beacon Hill, nothing is left to simple design; creativity is not left only to the plate. Dining areas and service are as top-notched and handcrafted as the food. The dining experiences at Beacon Hill welcome guests to a world where comfortable, classic service meets a food lover's paradise. And this blend is truly the perfect combination for those living on-site but looking for something new each day.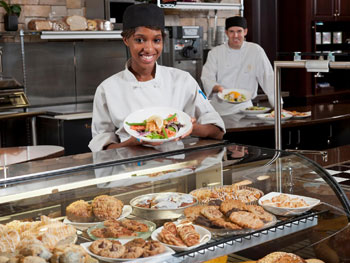 Diners have four dining locations on site, each quaintly designed to meet the various moods and stages of the day and occasion. The Boston Room features vaulted ceilings, elegant table settings and meals prepared on fine china, which help set the mood for a more-refined meal. The Plymouth Room offers a cozier, comfortable meal that comes with a flare of fun, unusually shaped plates that work to complement the meal and the atmosphere.
Ready for something more active and engaged? The Bistro is the Grand Central Station of on-site dining at Beacon Hill. Here residents enjoy the living motion of busy chefs exhibiting their skills for all to see. And with a visible wood-burning stove, rotisserie, induction burner and shelves full of fresh baked goods, diners are visually and aromatically entertained.
With the goal of replicating five-star restaurant service, director of dining April Schaab and dining-room manager Holly Becker-Baratta closely monitor the sequence of service to make sure residents are able to enjoy their meal, the company of their guests and the ambiance. No detail was left out as visionary teams crafted their plans for residents to live this "second chance at life" with the fervor of a child exploring a new classroom each year. Never fully aware of all the teacher has done to prepare, kids are encouraged to take in their surroundings and the lesson to gain the most from their time. So it is with diners at Beacon Hill as they are able to fully invest in their table companions and the edible delights placed before them. Such a hands-on focus of service and environment is meant to ensure the restaurants remain serene and wonderful places where residents and their guests engage in great dinner conversation, completely unaware of the meticulous service happening around them.
After years of working hard and plenty of time spent "doing life," retirees have earned their break. And while many senior-living facilities offer a place to rest and begin living life again, few do so while offering the dining experiences to support their intention of broadening their culinary experiences. Beacon Hill at Eastgate uniquely melds the wonder of its region, the talents of its staff and the desires of its residents and finds the sweet spot of dining delights that stimulates the desire to try something new even while in the comfort of one's home.
So, while residents work hard at hardly working, chefs busily prepare meals that engage the "new beginning" their taste buds have been waiting for all these years.
For information regarding the dining program at Beacon Hill at Eastgate, contact Cheryl Lucas at (561) 354-9142 or This email address is being protected from spambots. You need JavaScript enabled to view it.. For information about Beacon Hill at Eastgate, contact Scott Kearney at (616) 493-6911 or This email address is being protected from spambots. You need JavaScript enabled to view it..
Bio
Timothy England, CEC, AAC, is executive chef of Beacon Hill at