Guest Speaker: Gathering around the Kitchen Podium
04 November 2012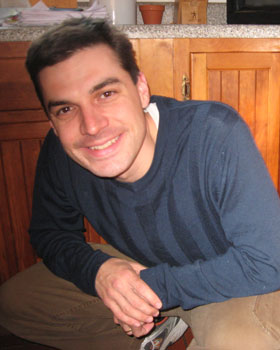 An English professor expresses his hope for the culinary-arts students he teaches: that they will see how public speaking translates to everyday interactions.
By Scott Palmieri, Ph.D.
With dreams of becoming the next Thomas Keller or Alice Waters, freshmen who must enter my Communication Skills class at Johnson & Wales University are often far from enthused. As my colleague, Bill Lenox, reminds me, when they go home for Thanksgiving and are asked by their loved ones to wow the family in the kitchen, they are left to explain that they were behind a desk or podium for most of the fall.
For the university, this is a source of pride, as they receive a well-rounded education. However, how do I, an English professor, relate my subject to future culinarians? After 11 years teaching English courses to culinary and baking-and-pastry students, I have learned to speak their language better while bringing them into my world.
Allow Me to Demonstrate
Presentations are central to the course, and the demonstration speech bridges our interests. Students often attend demos from visiting chefs who share not only techniques, but also often background about their homelands and various culinary traditions. This well-rounded view of food is why students are attracted to Alton Brown's show, "Good Eats." Whether from a scientific or cultural angle, Brown inspires our conversation. Also, students certainly relate to the difficult task of training a co-worker. Whether food or otherwise, learning to teach in a step-by-step fashion is an invaluable lesson.
Kitchen Communication
As much as I try to make connections, there is always the need for students to do it themselves. In their "Culinary Communication" essay, they reflect on how communication skills surface in the kitchen/restaurant world. My greater hope is that students will see how public speaking translates to our everyday interactions. Students have recognized the simple, yet important, exclamations of "Hot!" or "Behind!" in order to maintain safety. There are also the exchanges between the front and back of the house. There is the great challenge of working with customers. Students have also noted the language barriers in the kitchen. When all parts work together, it was what one student described as a "symphony."
The Real Thing
The English Department piloted a program that allowed some students in academic classes to observe one lab session and give a presentation based on the visit. Thanks to their enthusiasm and the graciousness of the chefs, it was a great success. Students took notes, flashed photographs and often rolled up their sleeves and participated.
I recognize that they elevate their level when it matters most, and in this case, this is what inspires them. In their presentations, the students were prepared and enthusiastic, conveying clear points about the lab and observations of communication skills. They noted the different styles of the chefs; they also witnessed the challenges of the students working together, how some led and how some held others back. The class was riveted.
On to the Next Course
The course ends with a prepared reading. Some choose authors such as Anthony Bourdain or poetry that connects to food or the pursuit of their dreams. I close with "Advice to My Son" by poet Peter Meinke, who instructs his son to live each day practically—to serve bread—but to also enjoy life: to always serve wine. I hope my course instructs in these two ways, as well.
---
Scott Palmieri, Ph.D., is an associate professor in the English Department of the John Hazen School of Arts & Sciences at Johnson & Wales University in Providence, R.I.