Guest Speaker: Love Is the Best Ingredient
08 July 2015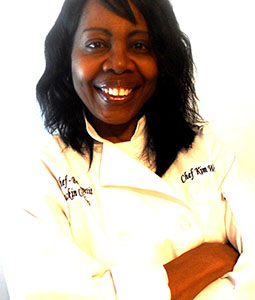 A bakery entrepreneur leaves nursing behind to enroll in an online pastry-certificate program, and the result is sweet.
Kim Washington is the perfect example of someone who has never given up on her dreams. She recently retired early from a decades-long career in nursing to pursue her passion of starting a bakery. Now with Escoffier Online International Culinary Academy's pastry certificate under her belt, she feels more ready than ever to tackle whatever obstacles may lie ahead.
Exploding Desserts LLC opened in May 2015 in South Holland, Ill. So Escoffier Online sat down with Washington to talk about what it takes to open a business, her favorite pastries to make and the No. 1 ingredient she makes sure to put in all of her creations.
Escoffier Online: You have quite a bit of culinary/pastry schooling. Why did you want to attend Escoffier Online?
Kim Washington: I was intrigued by the history of Escoffier. His name and works are mentioned in many of my cookbooks and he's quoted and fashioned after numerous times in the culinary world. Then I sought out to learn more about the online culinary school and was excited about what it offered and the fact that I could study on my own time.
EO: How did it make you a better baker?
KW: Actually the time, commitment, discipline and compassion in my quest to complete the course made me a better baker in addition to Chef Susie's kindness and availability.
EO: Why did you want to open a bakery?
KW: I'm a people person and wanted to move into a sweeter world of making people smile and feel happy.
EO: Tell us about starting your business.
KW: It's a lot of work; actually it's a tremendous amount of work. It takes lots of time, commitment, discipline, research, studying, going to workshops, networking, practicing and more. Preparing to open up a bakery solo is the real test and you either have the passion or you don't. The preparation can break you or make you because there are countless hours of work. I took an earlier retirement from my 23 years of nursing to begin my quest. I planned to open a bakery five years ago, prayed on it and attained what it took for me to do to make it happen. Exploding Desserts LLC is a specialty bakery, incorporating all of what I've learned from Escoffier and then some.
EO: What do you look forward to most with the future of your business?
KW: First, teaching customers, staff, students and interns about food safety, sugar, gluten, Celiac disease, overall health, diet and exercise and the "whys and the why nots." For the students and interns I also look forward to teaching them management skills and how to be an entrepreneur. Second, opening up a few more bakeries so I can give more new bakery/pastry graduates jobs with the opportunity to grow and eventually run it on their own.
EO: What are your favorite pastries to make?
KW: Canelé de Bordeaux is my No. 1 French dessert. It makes people sink down in their chairs after just one bite. I love making puff pastries. Nearly all my danishes, like kimmabuns (cinnamon rolls), croissants, coffee cakes and some donuts are made with puff-pastry dough. My first time making it as one of my lessons, it took me eight hours! I was calling Chef Susie completely frustrated, but her calmness relaxed me and helped me through it. And last but not least is my pâte à choux. (I still make it by hand.) The swans and èclairs I make just melt in your mouth and my filling is so light you can eat and eat and eat and it feels like you haven't eaten a thing.
EO: What is the No. 1 ingredient you have to have in your kitchen at all times?
KW: Love.
EO: Complete this sentence: Pastry isn't pastry without…
KW: Flour and fat. Without flour the term pastry is nonexistent.
To learn more about Escoffier Online, visit www.escoffieronline.com.
Copyright © 2015 Escoffier Online International Culinary Academy